One step closer to success (my son's graduation photoshoots)
Who's excited when you hear the word graduation? I do! Back when I was in my grade school, it was probably one of the best thing that happened to me because I am so excited to go to high school. I remember my young self very eager to grow up and do the things that adults can do, minus of course the bad one. I am still a good girl even though I don't look like one. One thing I can remember though from graduating in grade school back in the 90's (ajuhmma here) was that we weren't able to wear a toga. The graduation class from our school was advise to wear a white formal dress for girls and the boys should wear white polo long sleeves and black pants. Ah memories. Sometimes it is good to remember our childhood days.
Anyway, the reason for my sentimental memories above is that my eldest son is moving up from grade school to junior high school. Hurray! I just can't believe that time really flies faster and faster and I can't seem to notice it. I guess no matter how older he gets, I will always see him as my first baby boy. Speaking of moving up, last week their adviser told us that there might be a graduation pictorial this week in preparation for the graduation rites to be done maybe in July this year. He adviced us to get ready and all of his students must be present in the said pictorial since they are going to have a class photo with the adviser aside from the individual photoshoot. Moreover, he also told the parents in the group chat the proper attire for that specific date which is a school uniform. However since my Aaron is a transferee last year, he doesn't have school uniform. My queries were answered by their adviser's next message in the gc. While the girls should wear the school's official uniform, the boys can wear a white polo, black/gray pants, and black shoes. And so last Wednesday afternoon, my husband and I made a quick trip at SM Fairview to buy my son's the things he needed. His white polo which he used during online classes is already worn out and could no longer fit him, same with his black shoes that's why we bought him that, but since he cannot go with us due to his wound, I asked my husband to fit the shoe since they almost had the same size. Seriously, my 12 year old son has almost the same size as my hubby . What did he ate for the past two years?
We also bought black pants and was hesitated to go for small size or medium size, in the end we got the small size which has a waistline of 28 inches compare to the medium size that has 30 inches in waistline thinking it was really big for his age or so I thought. When we got home, the white polo and the shoe fits, however the black pants didn't. My son's not that fat however his legs and butt is a little heavy. Blame it on the genes. I am glad my hubby has extra black pants that even though it is a little bigger, we can use belt in order for it to fit. Meanwhile, the newly bought pants will be returned and exchanged for a bigger size maybe next week. Just a little information guys, I used to work in a department store specifically in the customer service department and return policy of items does not only limit to 7 days, you can exchange your items beyond 7 days as long as you keep your receipt.
When everything was set, I washed his white polo and let it dry the next morning then ironed it since their section schedule for photoshoots will be in the afternoon. I was a little excited because this will be the first time my Aaron and his classmates to see each other in person. Originally, their class schedule was 3 in the afternoon until 4 however there was a delay so the adviser sent a message that we should go to the school at 4 pm. We actually arrived at past 4, but then there was more delay as many classes haven't have their turn yet. The students, the class advisers, and even the parents didn't have a choice but to wait. The waiting process took 2 hours, and honestly I was bored to death if only I have data that time, I could spent the waiting time while enjoying browsing. After two hours, the long wait is over, kids lined up and waited for their turn for the individual toga pictures.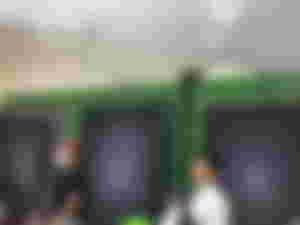 When the boys were done, the girls were next. We stayed a little longer for the girls to be done for the class picture with the adviser. A few minutes more, the girls came out so the official photographer arranged them according to their heights so that the final outcome will be nice.
It was indeed a nice experience for the kids to be able to see and bonded with their classmates personally. I am sure they were most excited for the face to face graduation rites that will be done somewhere in July. Meanwhile, the modules and the online classes continues, since they are still in the 3rd quarter of the current academic year.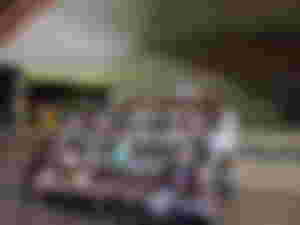 As a parent myself, I honestly felt proud for this little achievement that my eldest son is about to receive. Though it will happen in a few more months but then the excitement is all over my body. I would always wish for the best in him as he would enter a new chapter in his life. To my not so little boy, enjoy and have fun in learning. You know mommy and daddy won't be asking for a higher grades just finish it without having a failed time for mark.
Lead image from unsplash while the rest of images used were mine.