Coinbase Fetch.ai ($FET) Earn campaign is live since August 17th.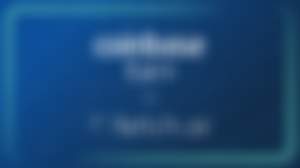 Fetch.ai is a platform that aims to connect Internet of Things (IoT) devices and algorithms to enable their collective learning. Fetch.ai is built on a high-throughput sharded ledger and offers smart contract capabilities to deploy machine learning and artificial intelligence solutions for decentralized problem-solving.
Before taking the quiz, make sure to learn about Fetch.ai through Coinbase short videos. Even though I provide the answers, the whole point is to learn something new.
You first have to sign up to Coinbase and go through the required KYC, make sure to have your ID card or passport next to you. In some cases the verification process can take a few days so be patient.
Once you're all set and that you have been verified, you can now take the quiz to which you will find the answers below:
What can people create with Fetch.ai?
Software agents that automate tasks

What's one role of the FET token?
To power Fetch.ai agents

What does Fetch.ai plan to support in the future?
Automated interactions with industries like travel and healthcare
If you successfully complete the quiz, you should receive the $3 FET tokens as a reward.
Thanks for reading.
Disclaimer: All information found on this article is for informational purposes only. I do not provide any personal investment advice so please make your own research before proceeding to any investment/trading actions.
---
Tip, like, follow and use my referral links below.
Exchanges:
Coinbase
Binance
KuCoin
Klever
OKEx
Earn free crypto:
Presearch
Earnathon
Coinchase
Blogging:
Publish0x
Torum
read.cash
Crypto faucets:
PipeFlare ($ZEC)
Global Hive ($ZEC)
Horizen Faucet ($ZEN)
Womplay ($EOS)