Rural Fair- A colorful, cheerful and busy day.
26 March, 2022, Saturday
After a long year, a Rural Fair was organized in our neighboring village. The fair was held yesterday and I wanted to create an article about it and share it last night but for some reason it was not possible for me. The reasons were that I was too busy with all my friends all day, at night when I fell asleep I was at the fair with them and it was too late to return home. So I am writing this article the next morning.
Introduction of Rural Fair.
Rural Fairs are usually organized every year at a specific place in a particular village. But last year no such fair was organized anywhere in our country for lockdown. So after a long two years this fair was held yesterday and it is still going on which will last for 3-4 long days.
Village fairs are usually organized in a few villages as it is not possible to organize them in every village. So people from all the surrounding villages come to visit the fair, even from different cities, and some journalists broadcast about the fair on their TV channels. However, there are many differences between Rural Fairs and City Fairs and I had posted an article about City Fairs long ago that fairs are still going on in our city.
At the beginning of entering the fair, we saw several shops selling various items used in household life and daily life. There are small wooden utensils, various items made of iron for household life, cricket bats, scissors, knives, small children's toys and more. Since it is a rural fair, you can find things that are used by the village's people. I took some pictures of those stores and uploaded them in the form of gif for your convenience. I hope you enjoy it.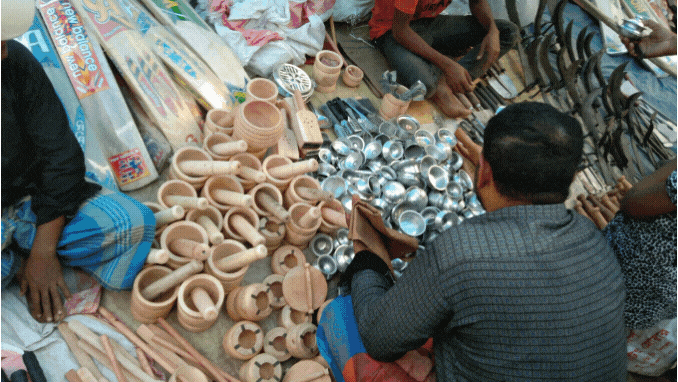 Then we entered the middle of the fair and there we saw many shops selling different kinds of food. The fair is so special for these foods. All the people of every village bought these and took them home. There are different colors of food which are called Bundi (regional language), white jhuri which I like very much and several more types.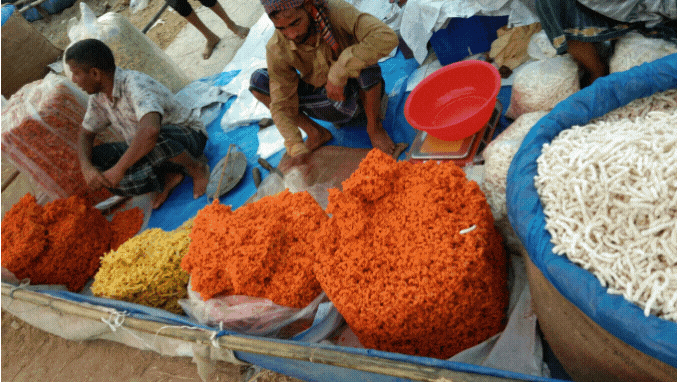 After observing all these shops at the fair, we ate some of our favorite foods. I can't stop myself from eating if I see this kind of food being sold somewhere. Everyone in our country likes this kind of food. These are chhola vaji, bhuri vaji, delicious shrimp bora (regional language). Although I shouldn't eat too much, I can't handle myself.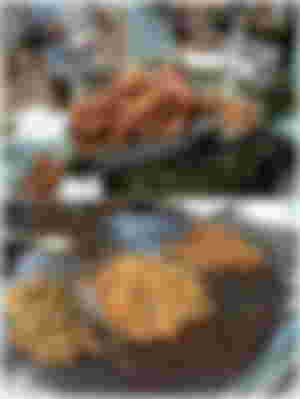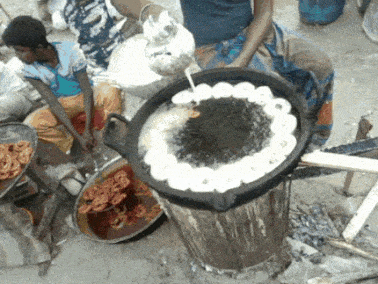 Coming from there at that moment I noticed that a person was making food in this way which is called jilapi and it is very popular everywhere in our country. I liked the scene of his cooking and I made a short video footage of this scene which was uploaded in the form of gif.
Our fair was divided into two parts and I have highlighted some view of the first part so far. Then we went to the second part of the fair where all the joy of this fair was. Different types of games were organized there through different instruments and one of them was Nagardola.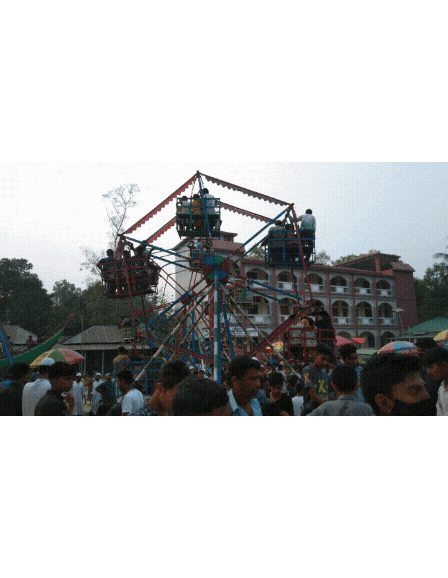 In addition to the nagordola, there was another one made in the shape of a boat, which may have been called Naukadola. The most enjoyable of the two was the round shape and the ridiculous thing was that I rode it yesterday for the first time in my life. What's even more ridiculous is that I got so scared when I was spinning that it's a shame because kids younger than me aren't scared. I captured a short video footage of how the nagordola rotates.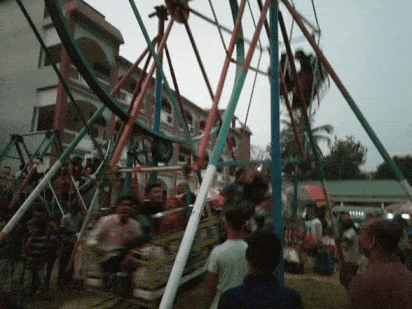 Then another game was organized inside the fair, which was to blow up balloons with a gun. And to be honest, this moment of the fair was the happiest for me. Here, instead of $0.13, you have to shoot six shots. I played it yesterday for the first time in my life and for the first time I burst four out of six balloons. The next time I played two more times and twice I broke all 6 of them. Since it was my first time, I really enjoyed it.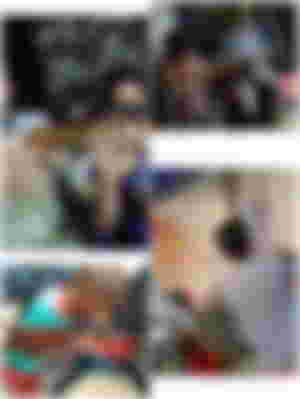 Later we came across two specialty shops at the fair where one kind of special betel leaf and different kinds of delicious pickles were being sold. I like the idea of ​​selling betel more than pickles because betel are being sold here with a variety of spices which cost from $0.10 - $1.20. When all the spices are put in one betel leaf, it seems that it is the most delicious betel in the world.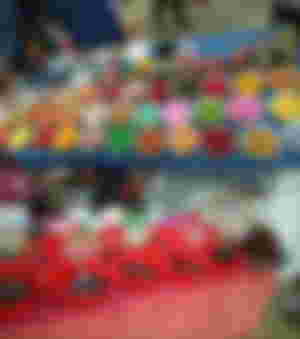 Then we observed the last parts of the fair where there are many shops. The first few stores were selling only girls' cosmetics and children's toys. The next few stores were selling a variety of books, posters and special banners.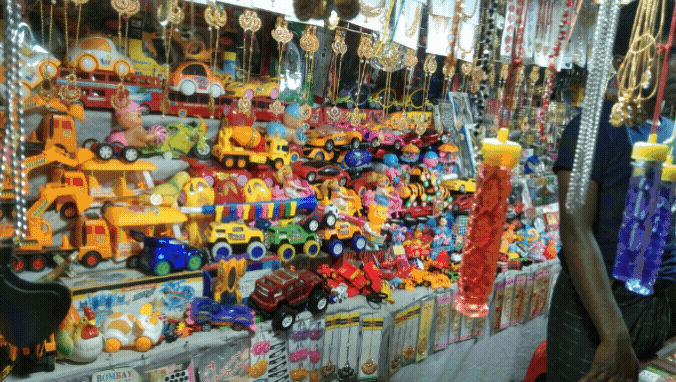 Of these, the banner shop was better because he was making them himself. You can write your name on that banner as you wish and I have seen many people write the names of their loved ones. I shot a short video on how to spell names.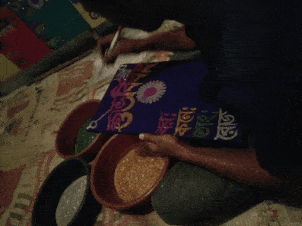 I respect the work of such people because they are very skilled in this beautiful and admirable work without being highly educated. This extraordinary talent in him is really captivating.
I have said before that there is a big difference between this type of rural fair and city fair because there is a lot of modernity in city fairs. But I can say for sure that there is more joy in village fairs than in cities.
On the first day of the fair only boys enjoy and on the second day only girls because the shops for boys on the first day are gone. And now the shops that are there are only for girls which means today only girls will go to the fair even though many boys go but their motives are different. I also have to go buy toys for my niece.
All the photos were taken by me.
All the gifs were created by me with the help of GIF maker- editor app.