Its been more than a year since I last saw my grandma and that was months before the pandemic started. We live in Albay and she resides in Camarines Sur, so there is no way for us to see her in person this past year. But since it is okay to go to different provinces in the region now without any complications, my family decided to visit her yesterday.
The grandma I'm referring to is my mom's mom. She's my only living granny since my dad's parents are all long gone and and my mom's dad passed away since my mom is still a small kid.
To be honest, I am much more closer to my dad's parents than my mom's. I was their favorite grandchild before and they loved me to the point of becoming sick whenever I'm away for too long.
But I also love my grandma because she is nice. I don't recall any instance that she ever laid her hand on me. She knows how much of a picky eater I am and she knows how bitchy I am when I was still a kid. But I never once heard a bad word from her. The only problem I have with my grandma is the way she treats her grandchildren. I feel jealous because I feel like she loved the grandchildren that lives near her over me and my siblings. It's not that I'm saying this on baseless assumptions tho. Those who are gran's boy/girl will understand me for this.
As a grandchild, I also want to spend some time with my grandma because she's the only grandma we have. Sometimes I tell my mom to invite grandma to come over and stay with us for quite some time. But every time we do it, grandma declines and gives a lot of excuses. There are times that she grants our wishes and pays us a visit but not a week would pass, she nags my mom about going home - my uncle doesn't have anyone to rely to (he's already 28 and should know how to take care of himself and their house if gran is not around), no one will look after the rice field, she have to check on the animals. She's giving us a lot of reasons. So my siblings and I came to a conclusion that she just doesn't want to be with us. And the childish me would usually say that 'if she doesn't like me, I don't like her too.'
But that my conscience is killing me every time I think that way.
My mom explained that granny is just not used to living away from her own house because my grannies from dad's side are like that too when they are still alive. Whenever they went on a vacation to visit my other cousins, they would always be eager to go home with us. Because they are used to being with us, instead of the other grandchildren.
It somehow give me comfort, that grandma loves us. She's not just used to living with us.
Yesterday, there was an announcement about a 12-hour power interruption, so I didn't go to work. I declared my own day off lol. Suddenly my mom told me that they're going to visit grandma because her feet and legs are swollen. I decided to come and visit her too and give her money. I initially thought about bringing fresh fruits for her, but on the second thought its better to give money so she can just buy anything that she want or need.
I bought some foods that we can cook when we arrive there. My mom has a lot of nieces and nephews and they are still kids, so also bought a few presents for them too to somehow make them smile.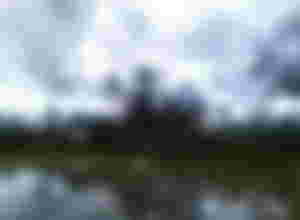 Behind those trees is where my gran's house is. We arrived there at 1:30 p.m. but she's not home. She's attending a meeting for the senior citizen pensioners. So we waited for a few more hours.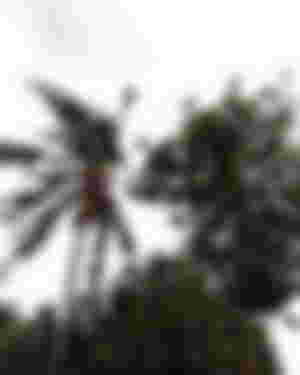 While waiting for my grandma, I craved for a buko (coconut) shake so my lil' brother climbed up the tree and got some fruits. I was amazed because I didn't k ow that he can do it. I even took a video of him so I can tease him one of these days about the way he looks while on the tree lol.
An hour later, gran arrived and she was very surprised upon seeing me and my siblings. My parents often visits her, but not us because I'm busy with work and my siblings are busy with their school activities. The old lady became teary-eyed when I gave her money - because that's what she loves more! 😂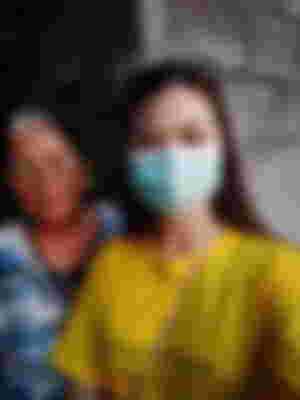 Meet my grandma! I took a photo of us before going home and I hope that I could come and visit her again one of these days.