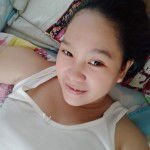 Tikoy or Nian Gao is a made of rice flour and ussually serve in Chinese New Year.After the Chinese New Year this is what we can do with the our leftover Tikoy.
INGREDIENTS:
*1/4 of Whole Tikoy
*10 or more pieces Lumpia wrapper ( it depends to you how many do you want to served)
*73.5 grams Langka/Jackfruit
*5-8 tbsp Brown Sugar
*1 tbsp Sesame seeds (optional)
*Cooking Oil
PROCEDURE:
1.Take a quarter of Tikoy and make rectangular slices.
2.Put a slice Tikoy on a Lumpia wrapper.
3.Put Langka(kackfruit)on top of the Tikoy and add 1 tbsp sugar.
4.Roll it up then seal with water.
5.Preheat a pan with oil.
6.Fry the Tikoy wraps and add some sugar on top of each to add more sweet flavor outside.
7.Let the caramelized sugar stick to each on the wraps in the pan.
8.Serve it in a serving plate and add some sesame seeds on top.
THANK YOU 😍