Due to this love story fever. Let me share my First Love ❤️❤️❤️
I see him for the first time in the Bgry. Were we moved. He was young as I am of course. He is older than me for 3 years.
Before We moved there. I pray to our Lord to give me a sign. And I say." Lord the first man I saw in that Brgy. will be my distiny." That day when we moved to that brgy. he was the only man standing there in a small store. Watching us when we first arrive.
When we moved there we never had a chance to talk. Cause I am shy and I don't like going out. I am happy watching Kdrama after school hours. When we are in 2nd High School year. I remember seeing him visiting my rooms. Well, I don't know who he seeing at that room.
When we are at 3rd year high school. This is one of the memorable things to and the first time I'll share this to other. I am in the Filipino subject. My teacher told us to go outside and draw. I was talking to my bhest we are laughing. Then a strong wind blow and just a seconds our eyes meet as if the world stop for seconds I felt electric connection to him. I am so shock that I was electrified by him through his eyes. I remember I can't talk for a while I just watch him pass with his gang friends. Yup his a bad boy and a member of fraternity. We never been classmates till 3rd year high school.
At that moment I had Crush on Him secretly. A skip bit for a while. I prayed and asked for a sign for my right guy. That's "Strong Wind" when he came. It happen and I was very happy. But I can only look a far from him.
Now at 4th year High. We became classmates but he was still the same. He still got that look of bad boy. A cool aura he have. His face is like marc herras. We became friends and talk sometimes. That makes me so happy deep inside. Half of that year one of my classmates became his girlfriend that gurl is my seatmate damn.
I got this Mutual understanding with my male classmates too. We haven't this sweet moments together yet. ❤️❤️❤️ That's doesn't last cause I found out he is seeing other girl from other sections. So I stop myself being close to him. I avoid him till we became just classmates.
at January last semester of our 4th yr. I found out that my Crush and my seatmate already broke up and that gurl already had a new boyfriend (wow). I was happy again. Well, he still cutting classes. I told him that he may not graduate doing it.
At our cooking Class he was in my group we are all talking and suddenly ask me if he could court me (seriously asking me with my friends) and I say" No your a playboy". One of my regrets till now (😂😂😂).
At that year. We go to school the same time, we walk the same street every morning but We never talked.
Sometimes he talked to me at the store where I see him. Or when I go outside of my home and he is in that store. But I am so shy that I don't want to face him.
One of my memorable 💓💓💓 moment with him. When I go outside from my home and he call my name so happily like a kid. That make my heart Happy. sometimes I think that he might have feelings for me too.
Every Christmas I see him with other women. It suck to see him kissing them.
My home and his home are facing to each other. When I open my window I can see his window Directly. Our homes is just 10 step away that close. Just like this picture below.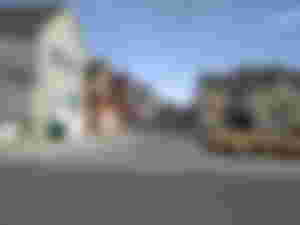 This Man I had this feeling toward him for so long. Until now. We meet but Not Meant to be. My sweet times ❤️❤️❤️. High School Days.