When I was a child, one of the family trips I remember was when my father would take us to El Morro Hill, in Lecheria.
I remember he would take us all in his car and drive to Cerro El Morro. It was not far from home, about 20 minutes. At that time I was terrified just thinking about going to El Morro. Going to that place made me nervous. I didn't enjoy at all when my father drove his car and went up the hill. Turning around as if the hill was cylindrical. I was terrified to go up and see the cliff on the side of the road. When we got to the top I was afraid of that height, and coming back it was the same thing. I always thought that the brakes would fail and we would all go over the cliff. It was a childish thing, because when I grew up it was one of my favorite places. Especially when I was dating. And you will know why.
Now I can better appreciate its beauty. Cerro El Morro is located in Lechería, Anzoátegui, Venezuela. It is a circular hill about 15 kilometers long. If you go up the hill on the left it leads to the Fortín de la Magdalena, which is a structure from the colonial era. But if you climb it from the right it takes you to the top of the hill. Most people climb it from the right.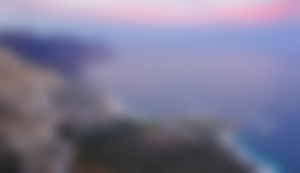 Once at the top you will have the most spectacular view of the area. You can enjoy an incredible view of the sea, of all the fullness of the bay of Pozuelos. From the distance, you can see the entire city of Puerto la Cruz. And also the city of Lechería.
 The hill of escasavegetación and much sun has its main attraction for its spectacular scenery. Here my friends of read.cash photographers would come alive with their cameras.
It is a charming place, with energy, where you can breathe a lot of peace. At night the lights of the cities in the distance resemble a postcard of natural beauty. Dreamy sunsets for romance. When I was dating I used to climb the hill a lot with my boyfriend. Its sunset landscapes invite romance. But when night fell we had to go down because it gets very dark, there is no street lighting. At least there was no street lighting at the top of the hill. All its beauty is until sunset.
The days that most people go up the hill are holidays and weekends. Many people exercise, jog, mountain bike or hike. Over time, large residential complexes and hotels have been built around the hill, which allows for a more or less constant surveillance, giving a sense of security, although one cannot trust it, because it is still a relatively isolated place and you can run into all kinds of people. Here at the top of Cerro El Morro they practice paragliding. The hill lends itself to do so, both for the beauty of the scenery and the weather conditions with the right wind currents.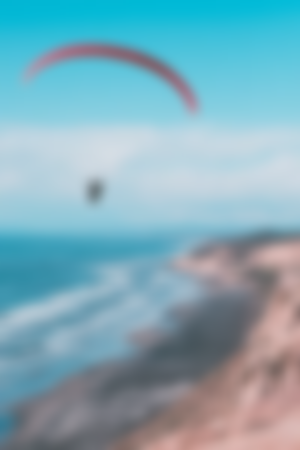 Have you ever wanted to do something that you haven't done yet, but that desire is still latent in your thoughts? I have long wanted to launch myself from a high place, paragliding, and fly like an eagle. There has always been an obstacle that has prevented me from fulfilling that desire. But I'm not afraid, because I'm not afraid. That is to say, it may be that at the moment of launching myself from a hill I will be afraid, but it will be a different fear, an exciting fear. If you still don't know what it is to launch yourself from a paraglider, I will tell you that it is a sport where you launch yourself from a hill or you can also be towed from a boat, if you are at sea.
One rises, for about 15 minutes, by a rectangular, flexible, and deployed parachute. I wouldn't jump alone, I'm not that crazy!... hahaha... I would do it with someone else who has the experience, with an instructor.
I have never flown paragliding. I want to experience the feeling of being like an eagle, to spread my wings and soar through the sky, to see the landscape freely, from above, to be carried by the current, as if I had wings.
And you, have you ever flown in paragliding?
To end my story today, I give you a biblical passage, which at a specific moment in my life, touched my heart, and since then the eagle is my favorite bird, it is like an emblem for me... "But those who hope in the Lord will renew their strength; they will soar (with) wings like eagles, they will run and not grow weary, they will walk and not faint", Isaiah 40:31. Thanks to my dear sponsors and readers who follow me, for always stopping by and leaving your comments. To all of you, thank you.