"Life Update for the past days being Away in Blogging World"
Hi, good day! How are you my dear brothers and sisters of this wonderful community? I hope everything is doing great around here.
I've been away for a couple of days now, due to my personal appointments happening here in the real world. And here I am today, taking this opportunity to share with how was it so far.
First of, let me share the latest update regarding my pregnancy journey...
Last Tuesday, 6th of June, I went to my OB again for my monthly check-up. It is to monitor my baby while he/she is still inside my womb. It was a long and tiring day, not just for me, but for all of us that was waiting in the long line. Imagine, I travelled around 6:30 A.M. but I was entertained at the last hour of their duty of that day. Yes! I was the last one. This scenario happened because, though its "first come, first serve" basis, they still prioritized those clients that was not entertain since the last week until the last Monday. As what I have remembered, there were forty-three clients all in all. In addition to that, there was this emergency happened. An ambulance arrived at the clinic and it took almost half an hour before it was settled.
Because of that, I just said to my papa that we should go to the Notary Public, so that I can notarize my PDS, as it was one the required documents for this year's ranking. Actually, I was really planning to submit my pertinent papers that day, but nothing happens because I ran out of time. To cut the story short, being on the last, I was still very happy to see the results of my check-up (ultrasound)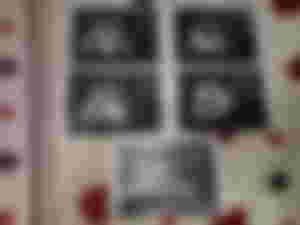 [captured by yours truly]
My baby is now 18 weeks. I still don't know the gender but for now, what matters the most is that the baby is HEALTHY! I happily shared the good news in my fb (facebook) yesterday too. (⁠◍⁠•⁠ᴗ⁠•⁠◍⁠)⁠✧⁠*⁠。
The day after that, I went back to town proper because I planned to submit my pertinent papers for the rankings but we failed to do so because the assigned AO was on travel at Tacloban. And today, we went again to the District. This time, we successfully been able to submit our pertinent papers. As for mine, I need to go to PRC office for the Authentication of my PRC ID and of course, another expenses will be added in the tab again. (Deep sighs...)
For the day and couple of days being vacant, I spent it for resting. That's one of the reasons why I didn't manage to share another blogs for the days being away in here.
With regards to my next appointments, my next check up will be on July 07 of this year and as for the following schedules related to the Teachers' Ranking, the district said that they will notify us anytime soon.
_______________________
That's all for this blog my read.cash friends. May this month bring us joy and happiness. As well as abundance, may it be financial, health, and great opportunities.
Thank you for reading! ♡♡♡