"First Day ft. a Long Day Brownout"
"Another page of the calendar has turned. Old month had passed and new month came by." Happy Half-Year my dear brothers and sisters in this wonderful community!(⁠◍⁠•⁠ᴗ⁠•⁠◍⁠)⁠✧⁠*⁠。Wow, the time really is fast! Anyways, how's everything going on around in here? I hope everything is doing great while I was gone for many, many days. And sure it is, I have missed a lot of things that's been happening inside this platform.
Last month, I was actually expecting to be back on track but sadly saying, I am not doing that great at all. I ended up the month with only few blogs being published and as expected, I've got nothing to brag in here about my earnings. And this goes the same with the other platforms I'm into. Because of this, I am trying to be careful on spending the money I have in my pocket, which actually the remaining amount given to me by the love of life, @Rhed for my monthly pregnancy check-up and the last travel I had at Abuyog, Leyte for the Teacher's Rankings Orientation. Yes, he provided my financial needs. Of course, my parents, as well. And now, here I am trying to convince myself that I am still into writing. That is why, I am making my way to be present today in this community even just in a quick update.
As I was awaked for a nature call last night, (I don't know if you know what I mean XD) I was stunned to see that everything was too dark. So, I grabbed my phone and while switching the plug, I've got to find out that its actually brownout. Good thing, I was able to charge my phone, the reason why I still been able to write my blog draft. After which, I went back in bed. And as I woke up in bed earlier today, we still don't have an electricity. In addition to that, we've experienced a moderate to heavy rainfalls.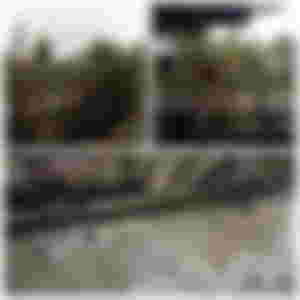 Look how this poor rooster felt so cold. XD.
[photo captured and collaged by yours truly]
Hearing the strong sound of the thunders, just give me some chills. It could be because of the past trauma I had. Well, let's not talk about it any further.
While lying in been, I am just letting my hands type letters, then to words, to phrase, to sentences, until I come up a whole paragraph. Along with this scenario, I am wondering why it took a while for the electricity to come back? What is wrong? Well, like what my mother said, "We do not have any other choice but to wait."
I just can't stand waiting that long for the electricity to come back. You know why? Because, all of the things that happening thru online world got interrupted now. So as the time I should spend with my partner (Rhed) who is working far, ugh... (not telling the word anymore.) I better take some nap before I stress out then.
_______________________
That's all for this blog my read.cash friends. May this month bring us joy and happiness. As well as abundance, may it be financial, health, and great opportunities.
Thank you for reading! ♡♡♡