________________________
Happy Tuesday to all of you my read.cash brothers and sisters! (Hugs and Kisses) How's your last Tuesday of the month been doing so far? Here in our house today, I was kind of busy doing some household chores. I was actually planning to do my laundries but aside from the weather changes, my mama did theirs, and if I will force to do mine too, we will be out of hangers then. Probably, I will just do mine the following day. Hopefully, the sun will go all out the next days ahead already. Anyways, let's proceed to the topic that I will be going to share with you today my readcash mates.
Its been a while since the last time I made a blog about my side hustling jobs' journey for a month especially of how my read.cash went for this month. A while ago, I was desperately thinking of what to write and publish in here and I just remembered that today is the last day of the month of January, so I decided to make a quick recap of my progress. And with that, I welcome you all to my blog...
For this month, I started a blog with a title, "New Year, New Beginnings" which accumulated a total amount of $5.30 in Bitcoincash. The next blog entry I published comes with the title, "Lost in Track" which accumulated a total of $0.52 in Bitcoincash. The third blog comes with the title, "Oh Read.cash, Please don't bid Goodbye" accumulated a total amount of $0.91 in Bitcoincash. The fourth one comes with the title, "Affected by Price Hikes" accumulated a total of $0.36 in Bitcoincash. The next blog entry I published comes with the title, "Feast Awaiting" which accumulated a total of $0.47 in Bitcoincash. The sixth blog entry I published was, "Business Proposal." This blog accumulated a total of $0.80 in Bitcoincash. The seventh entry I made for this month of January, comes with the title, "I Can't Grind Smoothly" that gained a total of $0.22 in Bitcoincash. The eight blog I posted in here with the title, "They Deserve Love and Care Too" accumulated a total of $0.54 in Bitcoincash. As for the ninth one, I made a blog with the title, "Best Days of my Life" which was my entry for Sir Bob's hosted Readcashrain Event. This entry got a total of $3.59 in Bitcoincash. It was one of the biggest amount I have gained for this month On the tenth blog, I published it with the title, "If Fate will Take me There" that was again a blog from the given topics by Sir Bob. This blog gained a total of $0.33 in Bitcoincash. And here's this eleventh blog that comes with the title, "My Desired Course" that I discussed as a continuation which accumulated a total of $0.28 in Bitcoincash. Then yesterday, I published my twelve blog with the title, "The Rain didn't Stop the Fun" that accumulated a total amount of $0.52 in Bitcoincash.
Including this one, I only have thirteen (13) blogs for the month of January.
Meanwhile, I have gained two New Sponsors for this month. With all honesty, these two people have given me the biggest sponsorship of my entire read.cash journey so far. That is why, I am very grateful for having them in my sponsors' block- Sir Bob or @Coolmidwestguy and Sir @AnonSunamun .Of course, I will not leave this other one sponsor I have that didn't leave me up until now, @aaskelter . The three of you really made me so happy. Thank you for your support and generosity. More than that, there's this one person that always present in the upvote section, sir @Telesfor. Though he didn't leave any comments in it, but the huge upvote he gave for my entries really made me so grateful. Aside from that, I also gained some Bitcoincash amounts from leaving comments in the other blogs.
For this month of January I have gained a total amount of $25.49 in Bitcoincash including the huge upvote I have gained from @ewyr.\⁠(⁠°⁠o⁠°⁠)⁠/

And I very thankful for this blessings especially because I badly needed it for I was the one that assigned to provide a budget for the ingredients and seasonings that will be used this coming Fiesta celebration here in our Barrio. You know, the price of onion and other ingredients really costs much this days, so I need to save up for this. I really want to give even just a small amount for my parents. Hopefully, I still can gain some more before the Final day comes and the Crypto market will keep going upward.
________________________
On the other hand, I have joined a new platform called ,"Rougee" which I have discovered on Twitter. Some of my readcash friends here was there too. I can't still say much about the platform but staying there was fun too. I remembered reading a blog from Sir @Amjad_Ali_Waince a while ago with regards to how to add a custom token at 1inch wallet in connection to this platform. I am still on a bit of confusion when it comes to the withdrawal process but I will make time to learn, of course. So far, I have gained $8.16 dollars in rougee coins in here.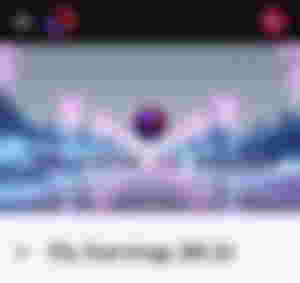 [screenshot photos]
If you want to start your journey at Rougee, just click the link.
________________________
If we talk about my Hive blog journey, nah... I don't have any good thing to say because I am not doing well on that platform for this month. Lol. XD. As for my Bitcoin Cashrain I only gained $3.26 in Bitcoincash for this month.

I am not lucky when it comes to winning the jackpot. Being said, the winners are just randomly selected. Aigoo! Well, despite the fact that I didn't win huge amounts there, I am still happy with every little cents that came inside my wallet other than gaining none (0). Aside from that, I also made a Cashrain community there and for the first time, I also give away few amounts of BCH there.
I must say that this month was like a roller coaster ride to me. But despite the struggles I went through, gaining this amounts I have in my wallet so far is blessing that must be thank of especially from the generous people here and there. THANK YOU FOR THE LOVE AND SUPPORT EVERYONE!🥰
That's all for this blog.