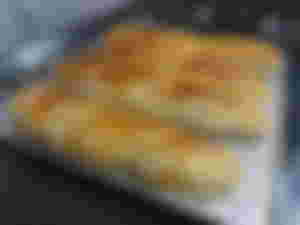 Baguette is the version of the bread is the most versatile of the Venezuelan bread menu. Filled with whatever, they always represent an excellent option for breakfast, dinner and even a good lunch.
600 gr of Flour all use

335 ml of water

9 grams of yeast paste or 5 grams of instant

11 gr of salt

25 g of butter or butter

12 g of sugar
In a bowl place the flour, sugar, yeast, butter, mix everything very well and place half of the water and knead until gluten is formed, then place the rest of the water and salt and knead until there is an elastic mass and even, then you start kneading dough, like washing clothes, for 10 minutes. Let stand for an hour covered in a warm place, then divide the dough into 4 portions and form the loaves, let stand for another 25 minutes, covered. Before with a leaf you superficially cut three cuts to each bobbin. In a floured tray and oven preheated to 180 ° C, put in for about 30 minutes or when browning the bread.