Beef Mami/Pares, a common street food that you can find on every block, and every corner in the streets of Metro Manila served with chunks of beef, noodles, or without noodles garnished with spring onions. You can add toasted garlic, hot sauce, and soy sauce once it is served. A few weeks ago, this is showing around my newsfeed about this small eatery that is becoming viral on social media. And this is now been featured on Rapsa, The Chui Show, and from TikimTV (video down below).
This is the story of Jim Delos Santos, A retired Overseas Filipino Worker, started to sell using a side car and the owner of Jims Pares.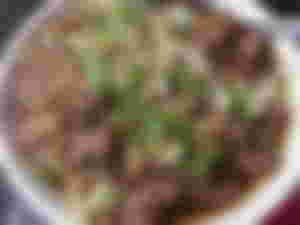 Why is it called Jims Pares? His customers named it when he first sold it near the office of the National Bureau of Investigation. Jim doesn't have an idea why the people loved it so much. The moment I ordered their Beef Mami, it is overflowing with meat and noodles. That is one of the reasons why his customers keep coming.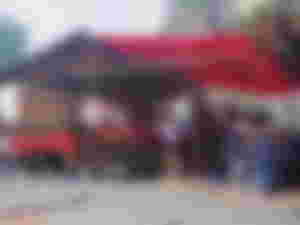 How did he start selling Mami/Beef Pares? He started selling food in 1999. He's been selling food for 21 years, and it is given that once you start a business it will be very tough at the very beginning. Sometimes, he would sell at midnight, then would shop for ingredients and he would sleep on the sidewalk, or sometimes near a cinema hall. He was been robbed while riding on a jeepney to Divisoria multiple times, but there are good samaritans around him to lend the ingredients. His sidecar would get confiscated 5 times and they will take the advantage that his sidecar was taken somewhere, or from another place. There are times when he's about to throw the towel on the ground, mostly he would get broke. But his determination, grit, and perseverance took the long road why is he still selling his signature dish.
Originally, Jim roams around Manila using a sidecar and sells around from the Philippine General Hospital, the National Bureau of Investigation, the US Embassy along Roxas Blvd., then Rajah Sulayman Park and the corners of Roxas Blvd. & Pedro Gil Street. The majority of his customers are Taxi & Jeepney drivers, he starts to sell his food from 6 am to 10 am, and it was a best seller.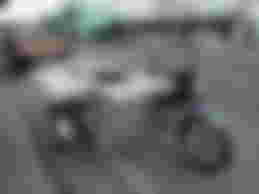 Now, sidewalk vendors are not allowed to sell anymore along the streets of Manila, and his patrons are wondering where is Jim? He decided to place his eatery beside a car wash on the streets of Maria Orosa near St. Paul University and Robinsons Manila. Another landmark that you should remember is near the Pearl Orient Hotel.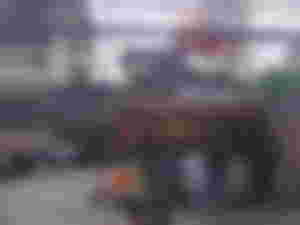 How does he cook it? Instead of using an LPG tank, Jim uses a very traditional way of using burned wood so the meat can be tenderized, including his signature soup.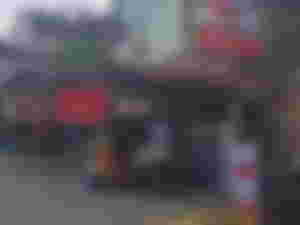 Even if this is a street food, his customers keep coming back every day, every night, 24 hours. Customers coming from Caloocan, Bulacan, Pandacan & Tondo (these are small towns of Manila), Quezon City, and other parts around the region. Riders, Bikers, even Rappers like Flow-G, King Badger, and Omar Baliw paid a visit to Jim and taste his delicious Pares.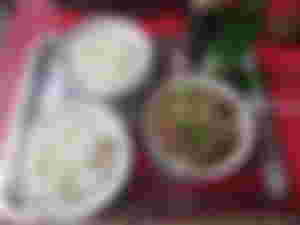 How much is it? So, their Beef Mami costs 70 Pesos ($1.46). I ordered one bowl and 2 bowls of rice (10 pesos ($0.21) for one bowl of rice) and a bottle of Mountain Dew for 15 Pesos (0.31) for a total of 105 Pesos ($2.19). The moment when I had my first bite of his dish, I was blown away to a different universe. It's more different than the ones I usually ate around Metro Manila back then. I finished with my first bowl of rice, then added some hot sauce to my Beef Mami. Mixed it well, and it is very tasty and spicy. You will feel the flavors once you sip the soup, the meat is very well soft and tender, and the noodles were not so thick.
Jim's business is now successful, from his customers, this man kept going forward from his hardships and challenges for the past 21 years. He was the only one who started to sell his dish, then he got a few employees until he has 16 employees working for his eatery. The best part of it? It's free lunch for them, and Jim found a way to help other people with the current situation today.
I was inspired by his story and learned a lot of lessons from him, but haven't met him personally yet. My stomach went full, and I was satisfied. I'll be back soon to grab more and meet the man himself.