Now that Kaya gains another 3 points against Stallions, it is time for the main event of last Monday's double header match. The Turkish Revolution has only begun, it's Dynamic Herb Cebu FC against the brave sons of Mendiola FC 1991.
Looking back on Mendiola's previous results (image below), they're on the bottom table with 3 losses to Maharlika, ADT, and Kaya FC, while 2 draws to Stallion and United City, of which they cannot pass through Michael Asong's post and his great goalkeeping skills. Cebu, on the other hand with 2 wins with their 1st victory against Stallions and an automatic victory against ADT which their match didn't go through last Thursday, and for their preparation for the South East Asian Games in Hanoi, Vietnam.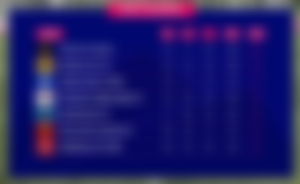 As we check the starting lineups for Cebu, Roberto Corsame Jr., the super sub from their 1st match with Stallions Laguna earned his spot for the Starting Eleven. While for Mendiola FC, Ashley Flores is back at the helm, Stephen Appiah at the front, and this will be Asong's biggest challenge in the tournament. Will Cebu FC continue their 3rd winning streak? Or can Mendiola withstand Cebu's ferocious explosives?
17 minutes into the first half, and still scoreless but Cebu FC steps on the pedal to attack when Lorenzo Genco outside the penalty area in the left flank tested Michael Asong making their 1st chance. One minute later, a long pass to Mart Altinoz inside the box follows it up with the shot using his left foot, but saved by Asong. 3 minutes later, it is Mendiola's turn when Junior Sam was surrounded with 2 defenders, finds Aaron Altiche with a long shot effort but cleared out by Ace Villanueva.
Still scoreless after numerous free kicks as they're testing out Michael Asong, as we go into the 40th Minute, Junior Sam with the opportunity to make it 1 - nil as he sprints into the penalty area looking for Ashley Flores, however John Saldivar made an error after his slide tackle in order to clear out the ball within the danger area. The moment he stood up, his hand got caught with the ball, and a Penalty Kick was given to Mendiola FC. Hamed Hajimedi takes the penalty and Mendiola takes the lead with 1 - nil.
One minute later, another chance for the brave sons of Mendiola when the cross coming from the left flank, Villanueva tries to reach for the ball but went loose, as Cebu FC tries to clear the ball out, Sam recovers and attempts for a lob shot, punched away by Villanueva as the ball rebounds to Hajimedi as he goes for 2 - nil. Off Target and too wide after that powerful shot.
As the half time whistle blows, Mendiola FC now on the lead with 1 - nil via penalty before the half time whistle. As we go into the 2nd Half, in the 57 minute, an opportunity for the Cebuanos when Corsame goes for a back pass to John Saldivar redeems himself with a cross after his error to defend his post, Arda Cinkir connects with a header making the equalizer for this match.
Corner Kick given to Cebu FC in the 59th Minute, a good delivery into the box but was cleared out, however Cebu recovers the ball as for Mendiola holding their line to defend, as they pass it to Roberto Corsame Jr. follows it up with a shot, using his right foot as it curves into the left heading into the left side of the post, but was blocked by Michael Asong.
Still 1 - 1, as we go into the 61st Minute and it was Mendiola's turn to attack. Ace Villanueva steps out into his post, Ashley Flores flicks the ball after that slide tackle from Villanueva making them open to take the lead, Flores with the cross but it was too close to support that connection and an eventual chance if they would double the scoreboard. 11 minutes later, it was the Cebuanos' turn when Borlongan recovers the ball after that long pass, but got tackled by Alassane Wade.
Borlongan quickly gets up and positions himself within the goal line for a through ball. Patalinghug steps over and Arda Cinkir nails the bottom left corner of the goal post. Makes it double his tally, and to take the lead with 2 goals to 1. Fast forward to stoppage time with an additional 3 minutes before full time, Mart Altinoz makes it triple seconds before the 93rd Minute.
It was a dagger-goal, and almost a long shot from the Turkish midfielder as he positions himself within the line of the penalty area in the right flank. Michael Asong was unable to save that shot hitting the top middle of the net. As the full time whistle blows, Mendiola FC were on the lead via Penalty in favor of Hamed Hajimedi minutes before half-time, and Cebu FC coming from behind as they fire it out with 2 goals from Arda Cinkir, and from Mart Altinoz.
Dynamic Herb Cebu FC, now on their third winning streak with 9 points and a +3 goal difference, they're now placed at 2nd between table toppers and Copa Champions Kaya FC - Iloilo, and United City FC. Tomorrow, as the tournament continues with only a few more matches, Maharlika Manila FC will take on Dynamic Herb Cebu FC. Kick Off at 5:00pm.
Watch it on the official Facebook Page and YouTube Channel. Spectators are also welcome to watch inside the stadium at the PFF National Training Center, but make sure to follow the safety protocols from wearing your mask at all times, and maintain your distance from other people.
Lead Image from ©Cebu Football Club's official Facebook Page.