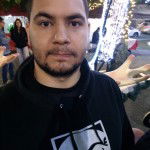 Well, I can't star my day if I don't grab a cup of coffee, looks like everything is empty and the sleepy mood won't go away, so the first thing I do everyday is to make some coffee and grab a big cup, when I do the first taste I go from sleepy to fully awake.
Are you a fan of coffee too?
For me coffee is one of the best things and I try to drink aways without sugar, btw here in Brazil coffee is cheap and is one of the best in the world.