My prsonal experience of last week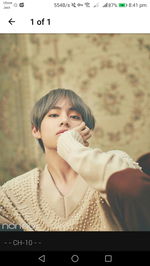 Greetings to all, hope everyone is doing fine and healthy.
Today I want to write about my personal experience of being called a liar. It felt really humiliating. So I want to share my story with you guys.
The story is at the start of the month of April our class CR told us to bring 2000 rupees for ac charges. I have the cash at that time so I gave her 2000 rupees and confirmed that she is okay and jotted down my name in the notebook list of the students who already paid the dues.
When I finally came back home, then she suddenly, messaged me that
from where did I have to bring money? I think what she wants to ask me that where did I get the money from. obviously, I told her that I had cashed out the money to give to you.
Then she again texts me that her cash was not really the amount is fake and she without listening and giving me time to explain what happened told everyone in the class that I tried to frame her by giving her a fake amount of cash. And told everyone in the faculty. I tried to give an explanation that my cash was bright new and the fake amount you are giving me is folded and torn from the side and I was not the one that give you fake money.
for such a small amount of money she tried to pull a stunt against me so I have to pay her double the amount because she is giving explanations to everyone in the class without listening to me.
I randomly talk about it with my family and they said she is trying to make you fool in front of everyone because of a little amount of money.
it's not that I don't want to pay her, it's just that if she needed money she should have asked me instead of embarrassing me with her false accusation.
people are really cheap. So don't trust anyone and keep your eyes open. they never lose a chance to make your life miserable and humiliated.
I learned a lesson from it, always pay online. Never use cash. and don't trust anyone.
For the past two days, I was using my online account instead of cash and my father was joking that you are now afraid to use cash. I said yes I don't trust anyone who can do anything to get their mere and artificial desires and especially when they have authority like my class CR.