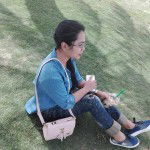 kwek-kwek is one of the famous street foods in the philippines...
so today i will show you if how we filipinos prepare it. hope you guys like my recipe! 😉😊
so here it is....
Sponsors of msJenDelaccruz
ingredients;
2 hard boiled egg
5tablespoon flour
5tablespoon cornstarch/corn flour
1/2teaspoon food coloring(yellowor orange)
1/4cup water
1cucumber
vinegar,salt and pepper
preparations;
hardboiled the egg,
while the egg are boiling prepare the 5 spoons of flour,mix with peppper powder,salt and food coloring with the 1/4 cup of water.
also cut the cucumber into cubes as your desired sizes.
in a bowl mix the cucumber with vinegar,salt and pepper(suggest to use some chili)optional.
when the egg is finely cooked,let it cool for a while peel it and gently roll in cornstarch to coat and shake off excess cornstarch.
dip into the mixture of flour so they are fully covered. poke eggs with the bamboo skewer or if you don't have you can use fork and drop gently into the hot oil.
Deep fry until the batter is crispy, about 2 minutes per side. remove eggs and drain on paper towels.
serve it w/the cucumber sauce or you can use ketchup,sweet and spicy sauce or what your taste preffer....
enjoy eating😊😋
hope you like it!