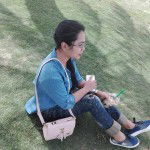 hey....i am here again😊
i just want to share you my home made donuts recipe😋😋😋
hope you guys like it😉
Sponsors of msJenDelaccruz
3 cups all-purpose flour and add more for kneading.
2 tablespoons sugar
1 cup luke warm water
2 1/2 teaspoons active dry yeast
3 Tablespoons oil
1/4 teaspoon of Salt
Oil Enough for deep frying
Put 3 Cups of flour in a large bowl combine the yeast, sugar,salt and mix together.
add the luke warm water and oil. Mix everything together until a very wet dough (more of a thick batter) is formed.
use the reserved a flour into the dough a little bit at a time until a soft dough is formed.
Transfer the dough to a floured surface and knead for about 5 minutes but don't add too much flour while kneading. the dough should be soft and moist.
greased a large bowl and place the dough then leave to rise for 1hr untill doubled in size.
After it's well risen, punch down the dough to remove the trapped air and transfer it to the work surface. Roll it out and cut out the Donut in circles.
cover it up again and leave to rise for about 10 to 20 minutes or untill it's almost doubled in size.
Fry the donut in a preheated Oil leave it until it golden brown and flip to cook the other side.
Once both sides are golden brown, remove from the oil and drain on a paper towel.
coat the Donuts with icing sugar. or whatever you desired to put,you can.use chocolate,strawberry jams etc....
hope you like it guys,ENJOY😊😊😊