Yearning In Silence (A Song)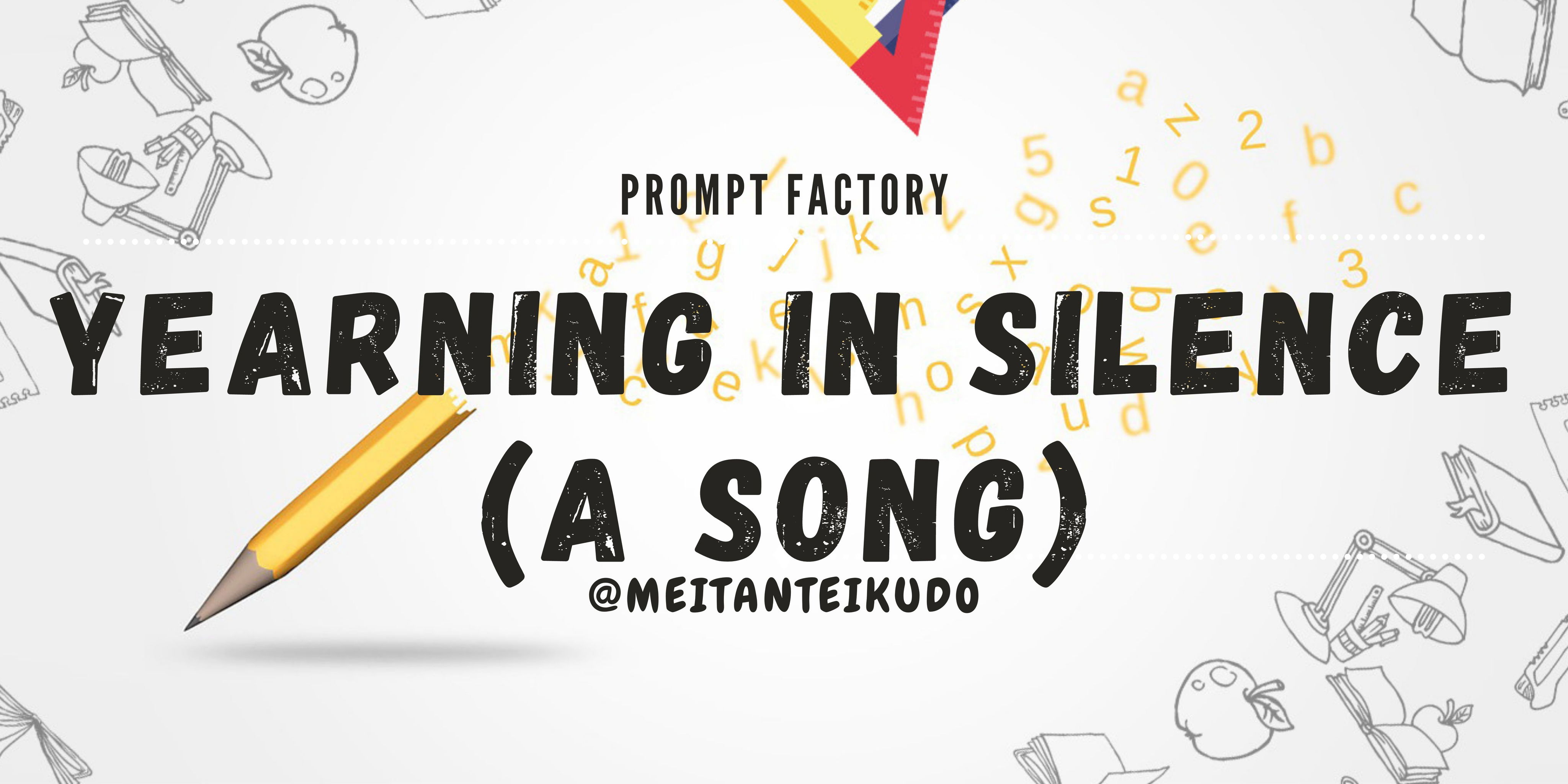 I have always considered myself a creative soul, particularly when it comes to the realm of words. While my artistic talents may fall short in other domains, such as drawing, where even my very survival hinges on the outcome, or singing, where hitting the right notes feels like an insurmountable feat, I have always harbored an unwavering belief in my innate gift for language. There's an inexplicable power that words hold for me—a captivating force that allows me to weave them together in a way that resonates deeply with others.
Building upon this foundation, I must confess that since my childhood, I have nurtured an indomitable dream within me—to write a song that would touch the hearts of countless people. Who doesn't yearn for such an achievement? In the early 2000s, a vibrant era when guitars became emblematic accessories in the hands of countless individuals, the streets reverberated with the enchanting strains of spontaneous jam sessions. Everywhere you looked, musicians were embracing their instruments, pouring their souls into every chord, and creating an atmosphere of pure musical ecstasy.
During those years, bands held an almost mythical status, embodying the epitome of fame and success. To a wide-eyed child like me, they represented the pinnacle of artistic accomplishment—a path to be traversed with unwavering dedication. The mere thought of standing in the spotlight, adored by crowds of passionate fans, fueled my imagination and stoked the fires of my ambition. The dream was not merely about the glitz and glamour; it was about the genuine connection formed through the universal language of music. It was about touching lives, sparking emotions, and creating melodies that would be etched into the memories of people for years to come.
In the depths of my being, I yearned for a life lived on the fast lane, where every moment was infused with the pulse of excitement. Imagining myself surrounded by sleek cars, adoring fans, and the intoxicating allure of success, I reveled in the exhilaration that this dream promised. Yet, I understood that behind the allure lay the undying dedication and unwavering commitment required to master my craft. It wasn't just about the trappings of fame; it was about honing my skills, embracing the creative process, and pouring my heart and soul into every word and every note.
And so, armed with this unwavering faith in my abilities and fueled by a deep passion for artistic expression, I embarked on a lifelong journey to translate the melodies of my heart into tangible words that would resonate with the world. With each stroke of the pen or tap of the keyboard, I strive to capture the essence of human experience, to craft narratives that ignite imaginations, and to evoke emotions that stir the very core of one's being. It is in this pursuit that I find solace, purpose, and the fulfillment of a dream that has guided me since the earliest days of my existence.
That being said, I find myself inexorably drawn to paying homage to that wide-eyed dreamer boy within me, and I am determined to embark on the audacious journey of crafting a song. Once again, I must acknowledge my shortcomings in the realm of music; I lack the necessary tools and expertise to bring this vision to life. Therefore, I humbly extend an open invitation to anyone out there who might lend their ears and expertise to help me transform this humble concept into a melodic masterpiece.
While my lyrical prowess may be present, the melodies and harmonies that dance within my mind remain elusive. I envision a composition that resonates with raw emotion, blending soulful melodies with heartfelt lyrics, creating a sonic tapestry that captures the essence of the human experience. Though I may provide a simple set of lyrics and a basic idea of how the song should unfold, it is the collaboration and shared musical genius of others that will truly breathe life into this musical endeavor.
To all the talented individuals out there who possess the gift of musicality, I implore you to spare a moment of your precious time and join forces with me. Together, we can forge a profound connection between words and melodies, crafting a musical creation that transcends individual talents and becomes a collective masterpiece. Whether you are a virtuoso with a guitar, a maestro at the piano, or a prodigy with any instrument that stirs your soul, your contribution is invaluable.
Let us embark on this collaborative adventure, where creativity intertwines and the boundaries of what is possible expand. Join me in sculpting a song that possesses the power to move hearts, uplift spirits, and ignite the passion within those who listen. With your musical expertise and the collaborative energy we generate, we can transform the humble lyrics and concept into an unforgettable composition that resonates far beyond our own dreams and aspirations.
So, if you find yourself compelled by the allure of this musical journey, reach out and let our paths converge. Let us join forces, combine our talents, and breathe life into this melodic baby, infusing it with the notes and harmonies that will forever linger in the hearts and minds of those who experience its enchantment. Together, we can create a symphony of emotions, a testament to the power of unity and the boundless creativity that emerges when like-minded souls unite for a common purpose.
The song goes like:
(Verse 1)
In the quiet of the night, I whisper your name,
But my heart's left hanging, caught in a one-sided game.
I yearn for your touch, your smile's embrace,
Yet you're oblivious to the love I chase.

(Pre-Chorus)
Every beat of my heart, it echoes your name,
But you don't feel the warmth of this burning flame.
I'm lost in the shadows, yearning for your light,
Hoping that someday, you'll see me in a different light.

(Chorus)
Unrequited love, it's a bittersweet melody,
A symphony of longing, a heartache's elegy.
I'll keep dreaming of the day you'll finally see,
That the love in my soul is meant for you and me.

(Verse 2)
I watch you from afar, our paths intertwine,
But you're lost in a world where you'll never be mine.
I'll hide my tears behind a curtain of smiles,
While secretly hoping our love will travel miles.

(Pre-Chorus)
Every stolen glance, every touch of your hand,
Is etched in my memory, like footprints in the sand.
I'll cherish these moments, though they bring me pain,
For in my heart, your love will forever remain.

(Chorus)
Unrequited love, it's a bittersweet melody,
A symphony of longing, a heartache's elegy.
I'll keep dreaming of the day you'll finally see,
That the love in my soul is meant for you and me.

(Bridge)
But if the stars align, and fate takes its course,
I'll be here waiting, ready to embrace your remorse.
For love knows no boundaries, it can break down walls,
And I'll be here, patiently waiting for your love to fall.

(Chorus)
Unrequited love, it's a bittersweet melody,
A symphony of longing, a heartache's elegy.
I'll keep dreaming of the day you'll finally see,
That the love in my soul is meant for you and me.

(Outro)
So until that day comes, I'll hold on to hope,
With every beat of my heart, and the strength to cope.
For even in unrequited love, there's beauty to find,
And in this heartfelt song, my love is enshrined.


I would love it to be a ballad, maybe a slow and melancholic song just like a little country would do. Also, this may help a little, this is the chord pattern I am thinking about:
Verse: C - Am - F - G
Pre-Chorus: Am - F - C - G
Chorus: C - Am - F - G
Bridge: Dm - Am - F - G
Outro: C - Am - F - G
I think Ed Sheeran would approve.
And to whom it may concern: Do your magic!

Title     : Yearning In Silence (A Song)
Published : 29-may-2023
Sponsors of meitanteikudo