Greetings friends of the community, and in this opportunity I come to present an anime series in which I consider highly recommended and that makes clear that Japanese animation is not for children, and I am referring to Geneshaft. This series came to appear in 2001 through the subscription television channel WOWOW in 2001, and in the American continent in early 2000 by the experimental animation channel aimed at young people and adults called Locomotion.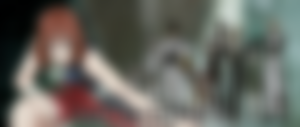 This series is composed of thirteen chapters that show us a utopian world where the human race has reached a high degree of technological development and social harmony at the expense of regularization and DNA modification, which gives rise to the existence of seven women for every man. This series is full of intrigue, mystery and action, due to the appearance of a gigantic ring-shaped object that threatens to destroy the spaceships manned by the protagonists and this must be fought by robots which they have. It also has a spectacular heavy metal soundtrack, created by Akira Takasaki (after doing some research on him, I discovered that he was part of a band that was very popular in Japan in the 80's, called Loudness). As for the direction, it reminds us at times of great classic films, such as 2001: A Space Odyssey, in which the images are the ones that narrate the facts but to the beat of heavy music. And if we talk about the traditional animation techniques (2D) and computer-generated (3D) these have managed to keep up beautifully over the years.
In conclusion, I would say that this is a great series that cannot be missed not only for its music and animation but also for its story, in which we are presented with a world where, as previously mentioned, there are more women than men, and that invites us to reflect if we really to achieve peace and order worldwide should as humanity take this step for men to become passive and docile figures (free of testosterone) to women who assume social leadership, and in turn leave our feelings and natural reproduction between both genders to procreate artificially leaving everything in the hands of science and become beings who happen to simply assume social roles.
Friends, I hope you liked this publication and I encourage you to watch it in a moment of rest. In case you have seen it, you can leave your opinions or doubts in the comments box where I will be glad to read and answer them.
I say goodbye before presenting the promotional video of the series.


I send you a big hug. You are loved. See you in a future issue.
Image source:
http://3.bp.blogspot.com/_w4VnmXyM4g8/SonfFDIzQRI/AAAAAAAAMPI/O1IRUhHb0u0/s400/genewp07_l.jpg
https://to-hollywood-and-beyond.fandom.com/wiki/Geneshaft_(2003)?file=Geneshaft2003.jpg