Time to gather all the resources I have worked hard for 4 years together to see if there's a way accumulate towards a 0.1 BCH worth goal every month in order to cover all necessary bills and expenses in case my fiat resources dried up.
---
Hi everyone!
Recently for those who has been following me with all my "little experiments" here and there on CeFi (like Celsius and Nexo) or DeFi like PancakeSwap and ApeSwap, it all boils down to 1 motive I have in mind.
---
This is also partly because almost 2.5 years my office have been struggling with new projects as we are under the consultant building industry and Malaysia itself especially the capital has been overly saturated with huge pool of competing consultancy companies.
Furthermore ever since my dad almost died from losing too much blood from a stomach ulcer and my mom needed multiple eye surgeries and still in the waiting list for a cornea transplant procedure, the need of paying more attention as a caretaker for the elderly and not enough time for work has pushed me to look into other ways to have a more stable situation that I didn't think of a decade ago.
One does not need to be building a new family to understand the shoulder of the only bread winner of the family. Even with my sibling who is helping along now that the LORD really blessed him with new workloads, his health due to negligence and abuse thinking he is super human (which most of us fall into the same category when young), is not going to be able to assist much further as he too has a family to take care as the bread winner of the house; furthermore, age is catching up for the both of us.
---
Hence the journey of searching the and testing for the right investments from scratch as a minimal investor and gaining side hustles through blogging began, thanks to my discovery of blogging while earning crypto 4 years back, including building a community that supports such ecosystem ideology.
This was a quote that stuck in my mind ever since I heard his speech about building a purposeful life propelled me to write intentionally for others to gain knowledge and a journal for myself through my learning experience whenever I blog; and speak intentionally whenever I introduce the crypto ideology to others.
---
At this point of time it is still on an trial and test phase, but I do hope that you (who are reading this) will continue to journey with me till I reach the intended target, from ZERO to the Finish Line.
I think these days I have spent most of my time on Noise.Cash a lot more because the interaction is a lot more happening, plus it is such a blessing to Receive Blessing and BE a Blessing! My tips are set at 80% author 20% curator default; and even though I am tipping people more than myself, I am actually gaining a lot more readers who liked the way I "tweet" there and I have receive equal if not more blessings from subscribers to supporters on the platform.
Honestly I have earned more in a month in noise.cash than 6 months on HIVE and STEEM combined.
Because of unique rewarding system, this site has truly compelled me to write a little more different, a little more innovative, creative, and unashamed to share my hiccups along the journey learning crypto and show the steps I did for critical comments (if there are any) while I know the algorithm actually rewards a little more when someone is really there noticing my sharing here. This used to be like Steem during the days, but these days but after the drama it is definitely not working much, but I still write there, challenging myself to write in a totally different yet used to be familiar language - Mandarin, to brush up this language once again.
I also love the topical section with customised category that I can set and tag my posts accordingly so that I will know how to "group my writings" together uniquely.
---
I do know a lot of people may not agree to this, especially those who prefers privacy more than centralised services, but for anyone who is new to crypto and hasn't learn the "shifting around income to grow more income", CeFi like Celsius is a great way to start, because you can start as little as $5 from Noise.Cash or Read.Cash for some prominent weekly dividend back to the native coin BCH / opt for its utility token CEL for portfolio expansion (because this is a growing value at the moment).
However, if you are such an avid writer and a great blogger that you can earn $50 USD worth of BCH a month, then Nexo would be a good place to start with minimum $50 worth of investment to have that hyped up daily 1/2 cent worth of crypto getting back into your wallet, updating until you are ready to withdraw, for free.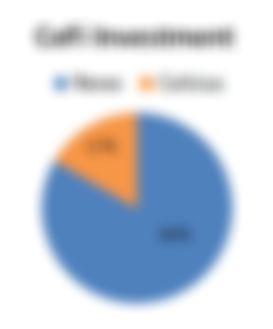 Currently I actually do invest with different cryptos on both platforms; one that has around 2 cents worth of dividend daily for Nexo, and 2 cents dividend weekly for Celsius depending which crypto yields a little higher interest.
So far my estimated accumulation is approximatstaely 65 cents a month there; without looking at what token I am earning as dividend to lessen the confusion of its value due to the tokens' rapid fluctuation.
That is (approximately) 0.0013 BCH worth achieved (based on today's price).
---
As you have read in my point 2, I do blogged occasionally on the STEEM chain now with Mandarin; and I also share what I wrote here (investment related) on LeoFinance that sits on the HIVE chain for bigger exposure and wider revenue.
Although these 2 chains doesn't have a guaranteed stable income, and it requires 7 days maturity date in order to determine whether I can get something, I have an average of 20 cents a day revenue if I am very hardworking and post everyday.
And I usually only post once every 3 days at the moment, so let's say 10 days in a month I get roughly around 20 cents (sometimes more sometimes less - but let's be conservatively optimistic) I get around 2 USD worth of revenue there a month; which isn't good, but it is not too bad either
However since I already have been blogging for almost 4 years now from the both chains, especially with STEEM price is steady between 30 cents - 50 cents a steem, I have now started powering down around 24 STEEM a week (around $7.20 USD modestly at 30 cents) for 13 weeks I can invest into DeFi (with a loss of 20% value after all the conversions)
---
Like what I have mentioned on point 4, I have started powering down my STEEM account to expand my portfolio to embark on a risky but full of potential DeFi spacce with considerably high yield that can potentially help me to gain and expand more of my portfolio. A good example is ApeSwap that I recently shared about, with an estimated modest daily dividend worth around 19 cents a day if I put in $5 USD (nett after all the network fees and exchange fees in Binance.com) worth of $BANANA tokens (at the current price of $1.793 per token) a week, I could modestly get around $6.50 USD a month at the same rate, and it will keep growing until 13 weeks finished (from my powering down)
Estimated modestly around $62 a month of dividend after 13 weeks.
---
These 5 simple steps would have enough for me to achieve 0.1 BCH worth monthly, with the current price of 1 BCH = 514.37...
And that is not compromising BCH's value from noise.cash and read.cash, maintaining its value as it is in CeFi.
That is unless I am willing to $6 worth of BCH weekly just to convert and make use of ApeSwap's current profitable position to gain portfolio before converting back to BCH (losing another possible 20% gas fees and exchange expenses along the way later)
---
Would this be a nice plan for you to follow suit and stick to such plan, even though you do not have alternative chains to receive income to generate passive income and you may have to sacrifice some of your BCH into DeFi in order to gain faster portfolio and income revenue status?
Do share your thoughts on how you can expand your portfolio much faster and better here too. We can all gain more knowledge and wisdom together.
Disclaimer: This is not a financial advice and this is just an estimated possible income in crypto and can change anytime of its value due to crypto's volatility.
Sponsors of littlenewthings