Teamwork makes the Dream work
"Talent wins games, but teamwork and intelligence win championships" this quote I believe is true, why? Yes if you have a talent you had you chance to win in games, for example you're a capable badminton player then your friends invited you play and gradually you won all of the matches aligned, that is because you're a skilled person. "TEAMWORK" on the other hand can win championships why? For me it is because your team works together and have camaraderie, not only it stands to one brain, but it requires brainstorming to one person to another. It also possesses intelligence of a group, and I believe to or more heads is better than one due to its process it'll create a big impact and much better results. Now why am I talking about "teamwork"? let's find out shall we?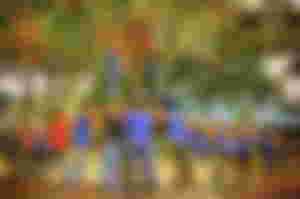 So for today's agenda our company, in our office department decided to have a team building, because it is our company's anniversary! So it is a tradition where each department will form into groups and create a massive play ground activities that are being held in one of the company's territory or places. And since now is the perfect time to build that.

On to our first activity which our department decided to grab a coconut flower in the coconut tree, doing the usual grabbing of coconuts were you just climb up or use a long stick with a hook on it to make it fall was one of the fastest way to grab one. But unfortunately this is a teambuilding wherein you had to get that coconut with your own large team.
Luckily for us we are fast thinkers, we have to use our people wisely on how we will manage to attain our goals in to grabbing the coconut itself. So as you can see in the picture up, we manage to make a long ladder or rows of people and so the girls are the one who'll grab the coconuts. The two rows are designed to form a flat shaped ladder or a staircase until t goes upward. I am the leader to this activity that is why I make sure to them to have support so no one will get injured.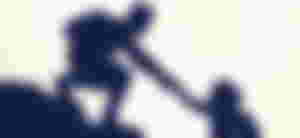 We successfully finish are long awaited task and it was a blast! You can really see that we made big efforts on our doings for the sake of our department. It was actually fun and by the end of time we slowly formed our bond. Yes you heard that right! Bond! One of the many things we can achieve once we really have that team work, the bond of each other, the relationship you formed for one another. That is why I presented to you our social site's photo
You can pictured it by two person, men and women who gradually worked each other amidst of all the the ups and downs and the struggles it was worth a shot for people like us to work together and put down the impossible to possible. anything you do will be worth it, especially you have your peeps along side with you!
That it is always important to be kind to others than to be right especially to the people whom you don't know and to the people who you know well. Being right is okay but make sure to test your aptitudes first than bringing others down. This is also a reminder that what people need is people that listens to other people's problems and example of that is you're willing to lend your ear for your friends and let them speaks to their feelings.
It is like what I've said before "forming/building the bond" If you want people to know or trust you, you had to show that you are trustworthy, worthy to be their 911/emergency friend who is willing to speak, listen and comfort someone when they are in need. Because if there's a time that you will be in their shoes you will be comforted just like what you did to them.
I learned a lot of things this day, team work and always be kind to others. Team work is something to be practiced it is not easy if you're not comfortable with people doing stuffs their or your way. It is hard to adjust, to maximize especially if you had things in mind. So now how will i connect the two both topics? IN TEAMWORK ALWAYS BE KIND AND LEND YOUR EAR FOR THEIR OPINIONS AND HAVE CAMARADERIE. IN THAT WAY YOU WILL BUILD YOUR TEAM AND LEAD THEM TO VICTORY; VICTORY OF FRIENDSHIPS AND EXPERIENCE"
See? Being kind having the team work is something you ca connect together. That's why I realize to always keep that in mind. In terms in my collogues I can be their helping hand in all possible way. And you can be too you know! Before I end I just wanted to say that truly this proves that makes team work makes the dream work. Goodbye everyone God Bless all of you!