Like father, Like son
"Our father is the pillar of our home" They are the ones who support the families needs and help them to get through life. Sometimes when hardships comes, our parents are the ones who build, speak or even do strategize things to get their family out of crisis. Life may throw insignificant things to us without letting us knowing, but in the end if you had your family together facing the obstacles all through, then a battle will be finish.

"In time of test, family is best." I believe to this quote. Life is full of testing and no one is exempted to the test of the world. You just need to come a way to perfected it or just barely pass it without hesitations. Family is the best when it comes to situations like this because this will show if you really can handle everything despite of the oppositions and skirmish confrontation that the world gives. Like I didn't ask for this but why does this happen? This is to see if your family is stable and ties together. Whatever may lies upon ahead of us, be with your family all the time.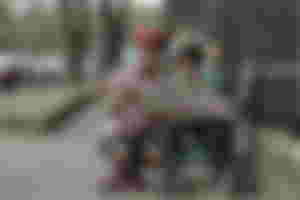 Education is very important in our lives, am I right? Of course we have to study harder until we achieve our dreams. But sometimes in life, hard work losses its power if you give up. You know if you are gifted in life to pursue your education you can study without any hindrance of financial problems, but it depends on you if you will use it in a greater good. On the other hand not all people are gifted with riches, and all they have to do is hard work and earn for them to survive, it'll be a blessing to them once they even eat 3 times a day or make their kids go to school like others. So that's why our parents get there butt off, and make jobs for the sake of their own family. Even of hard time comes, they putt of smile on their faces and just go with the flow like nothing happens.
To be honest parents are heroes they are the one who save us when we're in crisis of falling down. No matter how difficult the life we ​​suffer, sometimes it is our parents who make sacrifices, even if they cannot eat as long as the children can eat or have leftovers. Or when it comes to things like this they put their selves last as long as they can see their children's happy. That's why it is best to be thankful to them and times you're grown up give them the life they never had, pay for their hard works. Yes they have a lot of shortcoming but think of it like this; they're doing this for you.
Now why am I discussing about our families or parents? Well because I saw this picture in one of the shots I made, this two person, a kid on a stroller and his dad looks like teaching him on a newspaper. I was like why the news? when they could've had books. That's when I realize that maybe they can afford to have one, but even if they can't look at the dedication of the father. See how he looks up to his son. Even if they only had this kind of life, "a house on wheels" still they managed to be happy right? No matter what house do you live as long as you're happy and surviving together then enough. A house is not home without the love of the family in it.
To be honest, I am sad to see a lot of homeless people on the streets but at the same time I salute them, because they can do whatever the want, they survived, they persevere, they do a lot of things like going to jeepneys and produces sound using their improvised drum (which for me is very entertaining) they have this thing also that they do things in exchange of money even if the amount is small, but for them is big as long as they have money to survive or even eat is like a blessing to them.
This shareable article of mine is just like what I've read in one of the storybooks I've encountered is about " house on wheels" where there is two characters, a father and her daughter who only lived on "kariton" or a cart, every night they settle their selves to their bedroom, kitchen and living room. This tiny space is enough for them to have their own shelter. The dad works in "rakets" or what you called part time jobs or sideline, for them to at least eat 3 times a day. Their life might be so hard but they are happy because they had each other.
Just like the story and the picture above, even if life takes to some called "unfair" well yeah it is, but we don't have a choice but to accept it. Whether you're rich or not as long as you had your family with you and happy then problems are just a challenge or an obstacle to all of you. Consider yourself lucky if you eat, sleep and wake up the next day. the actual relieved that your parents experience is more happiness than you could've ever imagine.
Think about the hard work they've poured when you're young up until now that you are a grown up and can also be now a parent. Give them the love they deserve because I think that is their energy booster.
For me, parents are serves to be a role model by working to be their best selves and allowing their children to see their imperfections. Should also demonstrate loving predictability, consistency, discipline, and unconditional acceptance. Parents should be the one who will guide their kids, see them at their worst and even if they need a bestfriend, parents are there. Be a parent who is willing to guide their child, not disallowing to them to do what they want. Be there helping hand, their best buddies that they could ever want and have.
Being a parent is a hard job, it is fulfilling but the things you experienced before as a kid will no be no longer experienced everyday. Yes you can go back but you can't just do it all the time and neglect your duties. But to be honest the smile of your kids will be forever be a booster to your self who is tired and weary to take things. To the parents who is reading this, take care of your child be their hero, role model even if things might not work. To all the kids who is reading this, don't be hard on your parents, put them in their shoes, and love them because they are your parents since day 1 or since the day you are born.
Life might go bonkers, but life with your family will stay as it is. Sometimes you had to lived on wheels, maybe you are on top, maybe you are in bottom. You will never know, as long as you faced with positivity, nothing will ever go wrong. Just like the father like son on the title and on the picture, be like them that no matter what life throws at them, whether they had a home, no education or even decent surrounding they still manage to learn, survive and be a happy like no other. It's hard I know, but you can faced and surpass it no matter what. Like father like son, be a hero, a role model and a parent who is there to their child.