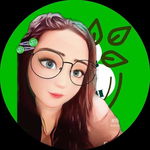 [Verse 1]
High school life, on my high school life
Ev'ry memory, kay ganda
High school days, oh my high school days
Are exciting, kay saya
There are times, may problema ka
Kung ang homework, left undone
Pray ka lang, 'wag tawagin ka
Upang di pagtawanan

[Verse 2]
High school love, my one high school love
Not infatuation or crush
Tunay 'to s'ya ang buhay ko
Di n'yo lang alam ako'y nagba-blush
Bakit nga ba ang first love ko
Ay di serious, so it seems
Kung alam lang ng first love ko
He is always in my dreams

[Chorus]
Ang saya ng high school
Same in yours and my school
Di na mapapantayan
T'yak ganyan ang buhay
Na sadyang makulay
Alaala kaylan man
High school life, on my high school life
Ev'ry memory, kay ganda
High school days, oh my high school days
Are exciting, kay saya

[Bridge]
High school life, ba't ang high school life
Ay walang kasing saya?
Bakit kung graduation na'y
Luluha kang talaga?
High school life, ba't ang high school life
Ay walang kasing saya?
Bakit kung graduation na'y
Luluha kang talaga?
Reminiscing the past, back at my Highschool days the moment I will heard this song. And that photo above was taken when I was a Second Year Highschool Student.
And thanks to Kennyroy, my friend at noise who enhanced this photos.
The song describe perfectly our High School Life.
All Filipinos can relate this song as this is a very famous Graduation Song lol.
For me the best school days of my life is in Highschool. This is where all is started.
We started to grow up as an adolescence. Girls started to comb their hair and put baby powder on their face.
But maybe except me hehe. I'm always late at the class so I have no time for baby powder and even just by combing my hair haha.
Why I'm in a hurry? it's just because all late students will pay 5 pesos or $0.10 dollars.
Our payment will be put on our sinking fund and that's what we used during our Christmas Party. And I'm the top 1 Student who contributed a lot lol.
But I joined the most trending eyebrow back then and we called it the "Kilay 2000" Actually it is an accident.
I'm shaving my eyebrows using a blade. As you know I'm only 14 years old and I didn't know how to shave.
It's just like an experiment to me lol. It became very thin so there's nothing I can do but to balance the left eyebrow from the thin eyebrow in my right haha.
And because of that I cut my hair to have a bangs to cover it. I have a picture, my ID but I gave it to my one Great Love hehe.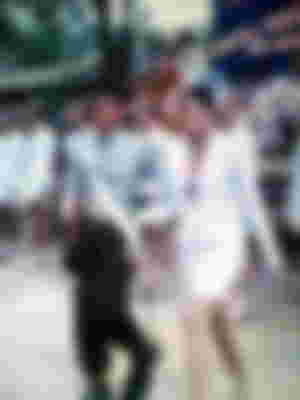 I'm inspired to write my Highschool Days experienced, the moment I saw Pachuchay post in noise. I don't know what is her name here in read.cash.
In her post she is reminiscing her CAT Days in Highschool. And the moment I read her post. My mind suddenly turn back time.
And flew in the Year 1997-2001. Yeah I'm too old haha. I'am a Batch 2001 Graduate. Well I don't hide my age despite of being 36 years old. I'm still Beautiful lol. Just joking I'm just pretty hehe.
And that Photo above is during my CAT Days. We are called a "Sponsors". I don't know why but that's what it is.
Each of us are paired with CAT officers. If I'm not mistaken I belong in Bravo Company.
One Experienced that I did not ever forget was during our CAT formation. My Co-Sponsors are very noisy. You know They have a Crush on CAT officers. As young wild and free they are very active haha.
And because of that we are punished from being noisy. The Senior Captain put all of us in the field under the sun! For one or two hours maybe.
Without moving while executing a hand salute. It's very tiring as we can feel the heat of the sun plus the numbness of our hand.
Well it's a punishment from being noisy. And having some crushes that your mouth can't keep quiet.
But you know girls are girls. They carry on the punishment and didn't ruin their composure. Why? Because their Crushes are watching and mine too lol.
So even under the sun we should be in a proper poised and pretty haha.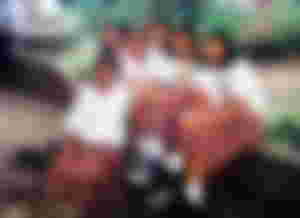 Those memories. Especially those memories of our Crushes. Those Adventures with our high school classmates and friends.
And I missed them. I miss being young and carefree.
I missed playing under the sun running barefooted without any worry and care to the world.
Dancing in the rain with Friends. We have no phone. if you got lucky and have a phone which is very famous during this time. The Nokia 5110 with antenna lol then you can be called a rich kid.
We communicate through love letters and a bridge.
A bridge is a person who will come back and forth sending messages on both party. So in our Highschool Days our messenger is a person.
Especially when someone admire you. The Bridge will serve as a connection for both young lovers out there.
That person will carry a message or a love letter from your boyfriend or from someone who has a crush on you. Yay kilig hehe.
But unfortunately All my Crushes didn't like me hahaha. I'am very unlucky in terms of Crushes.
As in no one from my Crushes who liked me back and I didn't even have a Boyfriend till I graduated. Poor me! lol. But that was only in School.
I have tons of boyfriends haha Just joking. It's a good thing I guess because no one distracted me in my studies only my Crushes during this times.
Just one time I remember, We are having an Intrams or Intramurals in our School. I'am a fourth year Student at that time and as an FL(Fast Learner) students, we are the one who will organized some of the booths. And I'm in charge in a group for Marriage Booth.
Yeah Students will come at the booth and will pay for only 10 pesos whom they want to Marry. Then we will look for that Student and captured her using a handcuffs.
And we will have a wedding ceremony for the both of them. It's very sweet to look at.
Then I passed by to the love letter booth. At first I'm hesitant to put my love letter in there. But why not? I already wrote it in a stationery with fragrance.
And fold it in a " I Love you Style". Yes that's what we called it here. The I Love you fold. But too bad My love letters before and Poems was lost.
And some was thrown by my strict mother.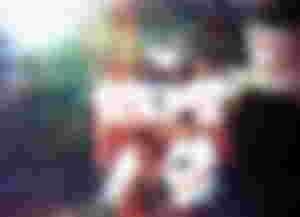 Just after I paste my Love Letter on the Board my Crush arrived. OMG!!! He saw and noticed the envelope that it was meant for him. Then he take it! open and read it...
Guess what did he do after reading it??? He throw it away!!!. The moment I saw my love letter was thrown, I didn't know the feeling.
It's a mix emotions!!! But still I managed my composure at that time. Although I'm very affected but I acted as normal as I could. Yes we are classmates and I didn't knew that he is in charge in the Love Letter booth. Good thing I put it when he is not around.
And the funny thing after we Graduated in Highschool we met again. And there is my chance. I really told him that the Love Letter that he threw was mine!!!
He is laughing so hard and so am I. He said why you didn't told me? I answered him "Hello! It's a secret lover letter why should I tell you".
Them we laughed again. Those memories of having Crushes is fun. Being in love, hurt and inspired. I received tons of love letters too. But I don't have a feeling for those who gave me.
If they will courted me in Love Letter. Well I will answer and declined them through love letter too. Unfortunately until I graduated I don't have a boyfriend in School.
And oh I was captured too In a blind date. They blind folded me and they didn't knot it tight. I can still see the people around me. Too bad that a fat cute boy is my blind date hehe.
He is a third year student and he has a Crush on me. Oh I Just talked to him until our time was finished but before that I already told him that I can only offer him a Friendship.
My mother is so very strict that she managed to tear and throw away all the love letters that I received. So no remembrance at all. But it's all in my memory bank. Those experiences that worth to be treasured.
When I have a boyfriend. I hide it to my mom. It's a highschool secret lol.
There are so many highschool Adventures and it will be boring I guess if I will put it all in one Article. Maybe later I will continue this Highschool Journey of mine.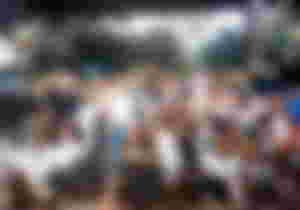 Guess who is my Crush among all of them??? You know I just secretly develop the negative of this picture in the Photoshop. And they are all surprised when I posted it in my FB and asked me where did I get this picture? It's a secret hehe.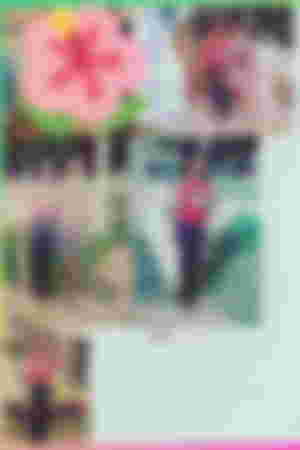 Surprise!!! lol Just sharing this 18 years old me. The photo was taken during my Birthday. Just look at the trending pants before and the style of the sandal.
Thank you for being with me in reminiscing my Highschool life and Days...
SURPRISE!!!!
A Surprise Shareable Link for the first reader of this Article of mine.
https://branch.wallet.bitcoin.com/plNKbAVJOeb
If you are an aspiring Writer you are very much welcome in read.cash
And of course much more welcome in noise.cash too.
just comment in here if you're gonna need my guide. And I'm very much willing to help.