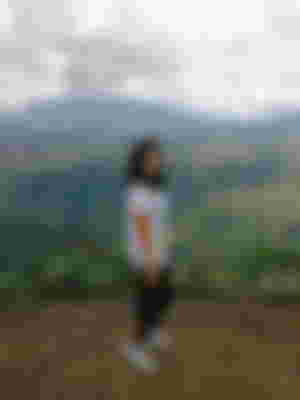 The HR of my previous job sent a message in our previous group chat on Messenger saying our project leader is about to retire this month. Well, the ceremony happened on March 25, 2022. We were asked to send a video, but I'm too shy to send one since it will be played in the amphitheater with professors and university staff present.
Before Sir A became my boss, he had been my professor in one of my subjects: Strength of Materials. I remember he would pair us by twos and have some exchange of pick-up lines. If he liked the first exchange, he would then ask for more.
Anyway, I'm not going to talk about the pick-up lines or the retirement.
---
Related Posts:
---
The last six months of my second job were exhausting. I had to do overnight twice to thrice a week then overtime every day to submit the deliverables before the project ends in July 2019. Then, we were pulled out to help the field team and then some series of training for the LGU, professors, and bachelor and master's students. Aside from that, there's this conference again.
The venue was in Butuan City again since the head university of this project is located there. It's a long drive from Iligan City, and we departed at around 8:30 AM. Given that there's no traffic, travel time will not go beyond six (6) hours, from Iligan City to Butuan City (almost 300 km).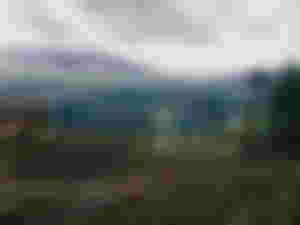 From Iligan City, we traveled two hours to arrive in Cagayan de Oro City. We stopped somewhere in Claveria to have lunch in an eatery. Going to Butuan City, the fastest route is via Claveria, since it's a mountain diversion road.
After we had filled our stomachs, we then started traveling. Thirty minutes had passed, my stomach was in chaos. I had to ask the driver for the nearest spot with a decent comfort room, and he responded that it was about 30 minutes of travel time. Our driver tried to lessen the travel time, and he stopped by Claveria View Deck.
I was rushing, almost running, to the comfort room, when my eyes were captivated by the beauty of the garden. At that time, it was not in its hundred percent full bloom since the View Deck had recently opened. The flowers were the first to welcome me, making me forget my initial plan. I had to take pictures first before I ran to the comfort room.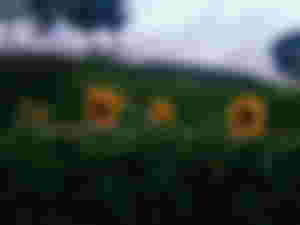 After the storm had settled down, I was able to enjoy the panoramic view of mountains and terrains. It was relaxing and refreshing to the eyes. Everything is green. The scenic greenery was the much-needed stopover after a long drive. I also continued roaming around the garden - it was indeed beautiful. I was able to see my favorite flower - the sunflower.
Since it was just a spontaneous stopover, after taking pictures here and there and making sure I'm done with my business, we went back to the van, and then, we hit the road again.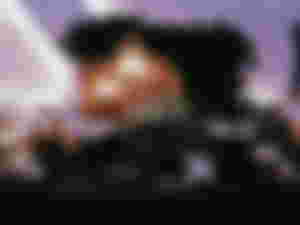 It was another long drive to arrive at our destination. Because of some unforeseen events, we had to rush in preparing our booth. We had a night to fix and prepare everything and also, to practice our dance presentation for the fellowship night.
The proper conference was the next day, the whole day. It was a formal event, wherein girls were required to wear a Filipiniana and the boys in Barong Tagalog. I can't imagine myself wearing one, so I opted to wear the modern version. I wore a black corset (from Ukay), a Barong, and a long black skirt. I then paired it with my sparkling heels from Ukay (thrift shop), again.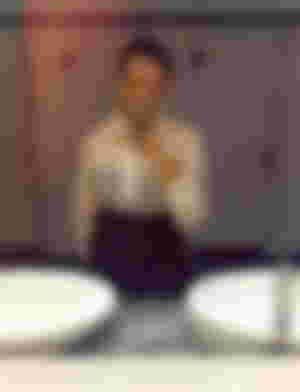 And in the evening, we had the fellowship event. It was a party with good food, presentations, games, and some light drinks. We also had some talks, more like an advance farewell to the team since it was June at that time, and the project ended in July of the same year.
---
We were supposed to have a trip together with the other teams from a different university. However, our team decided to have our own project-ender getaway in Sohoton and Siargao. We woke up in the wee hours since our departure time was around 4:00 AM.
I'll write the trip some other time.
---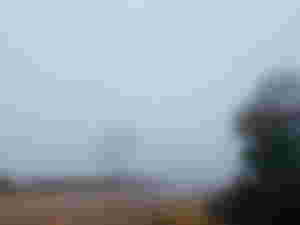 When we were on our way to Iligan City, we stopped again in Claveria View Deck. It was around 4:00 PM, and the place was chilly and foggy. Our driver was extra careful because of zero visibility. We then decided to open the van's window and enjoy the cold breeze touching our faces and skin.
Now that the View Deck has been well-maintained and upgraded, as well, I would like to go visit it again. Instead of a stopover, it'll be my main destination.
---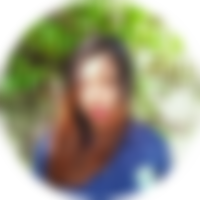 Connect with me: Noise • Steemit •  Hive • Blurt • Goodreads • Twitter • Instagram