My First on Noise.cash. new Community created and my journey so far on read.cash
Hello everyone,
Thanks for giving me your undivided attention. Reading my article with other of your useful activities here needs your time and other resources. But you keep it up to be with me. I will not let you down. That's my promise.
Being on this legitimate Platform excites me a lot. I have always dreamt of being rewarded for writing my article or blogs till a friend showed me this. I'm very grateful to him @unclecee . On this Platform, I don't expect much but just to own a single dollar ($1) of this token. It will go a long to improve my life and get me on my feet back again.
This Platform had many intricate part but I'm highly drawn to the way that it's being arranged. The communities are superb and our ability to create a new one too is highly appreciated. Although being here in a very shortest time, I have created a community titled @daily Bible Reading.

This Community had a mission of motivating, encouraging and inspiring us all in the Faith. Feel free to join and discuss a Bible verse with us to build us up!
However, after reading some articles from one of my mentor here @BCH_LOVER, I stumbled at a new other Platform incorporated with this unique Platform. That Platform is called noise.cash. I quickly ask her about it. She gave me a satisfying answers and encourage me to get registered. Which I did.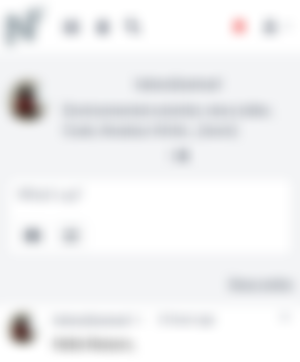 I even download the app from Google play store for easy accessibility. I wrote a lot of post on it already. I'm very happy to be HERE.
A wise saying is that "show me how to fish than giving me a fish. Being here will exposes me more. Increase my crypto knowledge and forum to express myself. More to this, get rewarded for writing about myself and things around. I pledged to be determined and consistent in the quest of becoming a "Better" me in the coming days.