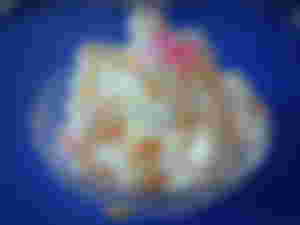 Make Christmas reunions special with a Lady's Choice macaroni salad! Try this macaroni salad recipe at home. Made with Real Meat. Deliciousness. No.1 Mayo Choice. 100% Real Ingredients. Real Inspiration for Moms.(Link
Classic Macaroni Salad
Enjoy a bowl of our signature Classic Macaroni Salad. Made rich, creamy and smooth with every spoonful by Lady's Choice Real Mayonnaise!
Prep Time:
•20 min
Cook Time:
•25 min
Total Time:
•45 min
Serves:
6
Ingredients:
470 ml Lady's Choice Real Mayonnaise
200 grams salad macaroni
1/4 cup minced carrots
1 tbsp finely chopped onions
1/3 cup pickle relish
2/3 cup pineapple tidbits, drained and sliced (reserved juice)
2/3 cup cooked shredded chicken breast
1/2 cup cheese, diced
2 tbsp white sugar
pinch ground black pepper
iodised salt, to taste
Steps:
Cook the macaroni and the chicken. Set aside, covered.
Chop the ingredients (carrots, cheese, onions, pickle relish, pineapple, ham, and chicken).
Combine the ingredients and fold-in with Lady's Choice Real Mayonnaise, then toss well. Season with sugar, salt, and pepper to taste. Chill before serving.
This food is the most fous food in our country every occasion we need this kind of food Birthday, Debut, anything that is an occasion for us Filipino's it's just like our culture need a special food to make the people happy and give them a good celebration to attend.
Dish food you can also make this even it's not a celebration or occasion it's not to be needed to make this food on celebration. If you are enjoy cooking or making a food you can make it to your own. Don't forget making it with love to have a good flavor when you taste it.
The most important thing is eating together with all of your family and sharing problems to each other, so they can advise if you/them have problem so they can support and give attentions.