She left, upset at the loss of her time and the deception of the message they sent her. But… what if it wasn't a hoax? What if it was the girl who lied? Could she love a cat more than the money they were giving as a reward? She would find out.
He returned to the house, but this time she didn't knock on her door. She stayed outside watching the girl leave. But the door to her house was "hidden"; In front of the girl's house were some bushes, high enough to block the entrance, but Pamela was smart, she walked down the street as if nothing interested and suddenly she saw a place from where to enter the undergrowth, from there she would find a place to hide and to wait for the girl. She stayed there until Carmen came out with a bag, a wide bag. She looked around as if searching for something. She didn't see his young neighbor peeking out the door. He was unpleasant; he was like an old lady gossiping about everything and everyone around him. She didn't see what she was looking for and kept walking.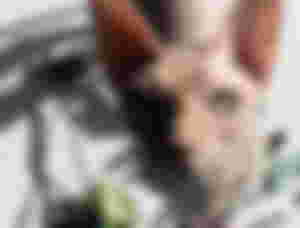 And then suddenly a small cat stuck its head out of the bag, making Carmen smile, but it also brought a smile to Pamela who saw it all. What made the girl lie? Why didn't she want that reward? All these questions ran through her head.
She then decided to hatch a plan to rescue her cat. She didn't tell anyone what she was doing.
She spent several days watching Carmen's house, she looked for the most appropriate time and place to intercept her.
Pamela left her home; it was already close to 6 pm. She spent time inhaling her powder before leaving, which made her stronger, according to her. She took her bag with the things she needed and took a bus. She stayed in the direction she wanted and then walked towards the bushes that she already knew perfectly well, there she waited.
Carmen left around 7 pm; it was around that time that she usually goes to an old woman's house. Said old woman lived alone and was 86 years of age, she was alone all day until midnight when her daughter arrives and stays with her.
She always came out at that hour, with her big bag, and her little Sphinx cat sticking her head out of the hole. Carmen felt a movement in the bushes and stopped, only to feel a strong blow to the head.
There was Pamela, right next to Carmen. The blow on her head was just enough to make Carmen fall over; Pamela pushed her to fall head-on to the floor, and then gave her two more blows on the head, just to make sure she wouldn't wake up yet. Pamela took her bag and hid the weapon she used. She took the cat out of Carmen's bag and put him in hers and then walked away, until she reached the bus stop and returned home with her cat.
She had bought him another bow, just like the one he had at the beginning, she removed all of the ads, all of the information about the reward. She already had her cat again and did not give any details about it. She forgot about Carmen and didn't want to know anything more about her.
During all of this, on the other side of town, Carmen woke up just at midnight, groggy, with a severe headache, right behind her neck and sprawled in the bushes. She got up and cleaned herself as best as she could, and then headed home again. She no longer had her cat. He left just as he appeared in her life, suddenly.
What happened? She would not know. Someone beat her to steal "her" cat. She could have accepted the reward that that young woman who passed by talked about "Why didn't I accept? At least I would have some money…"
The end.