"Small Blessings Always Count"
At some point in our lives, there are instances where sometimes we feel so down because of the difficulties we are facing. Sometimes these moments can give us negative thoughts and make us demotivated.
Yet, every day is very unpredictable because life is full of unforeseen surprises.
The past weeks while I was gone in writing, I was in a rough position. My husband's phone suddenly stuck in fast boot mode. It cannot be opened unless he unbricked his device or unlock his bootloader using firmware via PC.
That's the main reason why I haven't posted anything for consecutive days. He used my phone trying to retrieve and fix his LG V50 phone. I cannot use the laptop too since he was doing his piece there.
I was stuck up as well, no blogs means no small rewards too. And as he tried to fix his phone, our budget became deficient because he needed to reload the internet at home a couple of times. As he downloaded some software, firmware, and installers to try out.
Yesterday, our eldest still had a class, they had their PE activity before this long holiday of the Holy Week. It was almost 7 am and he needed to be at school before 7:30, I haven't bought him his recess yet because all the stores nearby were still closed.
Yet, suddenly, my Aunt came by holding a plastic of Pasalubong (treats) for my kids. My Aunt with her husband just went home from Manila 2 days ago.
She handed my two boys their packs of treats and I am so relieved to see that my eldest will be having a nice recess.
Earlier also, my Aunt who's our neighbor handed Calcheese and Breadpan to my kids too.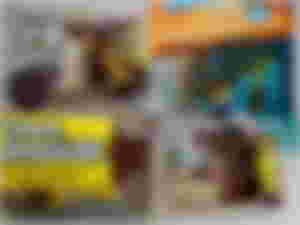 It was a pack full of chocolate candies, chocolate cookies, pretzel sticks, and chocolate spread.
My kids were so grateful and happy, they kept on saying Thank You, Lola, to my Aunt.
With their smiles, I can see my younger myself too, I was so grateful for any small blessings I received before. I remember picking up a one peso coin on my way home and it already made my whole day.
This made me realize to see the beauty in each day, it was full of small blessings. No matter how hard life may get, and no matter what circumstances we may face, we are still very blessed.
Just like here, on this platform too.
We already faced too many changes, someone said their farewell, and we almost bid goodbye, yet here we are, getting a new beautiful transformation of the site.
Some old folks coming back and newcomers too. It's so nice to see this platform is still working and being a blessing to each user here, including me.
I just want to write these thoughts in my head as I finally got my phone and laptop back with me.
It is so good to see that the universe is always pouring us godsends in any small ways we didn't expect.
So if you are having a hard time, try to look on the brighter side around you, you can see how blessed you are despite the black and white.
Wishing you a great Holy Week!
Thanks for reading. 🌼