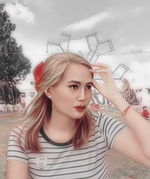 Happiness, we all what this state of mind, am I right? Who doesn't want to be happy?
But sometimes do you even notice that our happiness could fade in a snap? Just like it's just temporary.
Of course, every day comes new challenges in our lives, and our moods might change from time to time depending on what circumstances facing us.
But I realized, most people didn't get real happiness because they fail to accept things. That they are more on comparing their lives and still keep on looking for what's missing.
Sometimes people love to hate other people. They didn't share the same beliefs because their culture is incompatible. Each one of us has our unique personalities, and we need to understand that.
For me, accepting doesn't really mean we have to like it, it doesn't mean we have to force ourselves to choose what we didn't like, it's just we should learn to accept the fact that it is what it is and we can not change everything.
Just like about one's identity, we all have our attitudes, we have our "own" preferences and dislikes. If someone's attitude is making you uncomfortable learn to ignore and accept it, accept the fact that we are born with a different viewpoint in life and we didn't share the same stories.
If others could travel the world, buy the things they want, don't hate them, they deserve all the rewards they are enjoying. Instead of getting jealous, why not turn them into inspiration? Just admit that we have different statuses in life here in society.
I just realized this even more because of the challenges I faced in life recently. There came to a point when I thought of giving up, that I couldn't stop but blame myself for the unfortunate things that happened to our family. But by communicating to God, and with my partner, we made things clearer.
We now both acknowledge that difficulties could appear without our permission, it could bring us into a much trickier situation but when we learn to recognize the things we can't remake and learn to accept them instead of dwelling on them, now where on a much peaceful state.
And now we're both just going with the flow of the life we have currently. Because we can't change the situations easily in a snap, so we learned to accept the things happening today and we just set goals for the coming days. Because we both know that it needs more action and motivation to fulfill what we desire.
And also, I know what we're dealing with is just a small portion of someone else's problem. So, I still considered ourselves fortunate.
By accepting what's in front of me today, I am now even excited about the future, it's like I am more hopeful than I was before. And with the choices I chose, I recognized where I failed and where I succeed as a person. It simply means, I also learned to evaluate myself even more.
I also became better at ignoring negative thoughts and negative people around me. I just accepted the fact that we can not push people to agree with us, we can not force them to like us. Let them talk, let them gossip, it's their karma and not yours, that's it.
Because our time here is so precious to be wasted in dealing with negativities. If we want happiness, hug it and learn to accept the truth that we are not in control of everything.
Because for me, when we start to accept things and understand them, we will appreciate ourselves better and the life we have. We might be blinded by the things in front of us, let us never forget that happiness does not come from material things only, we don't deserve temporary joy in life, so learn the power of accepting and real happiness shall come in.
Lead image by yours truly. 📸
Written by: @eommaZel ✍🏻🥀
---