There is no escape,(exposed)....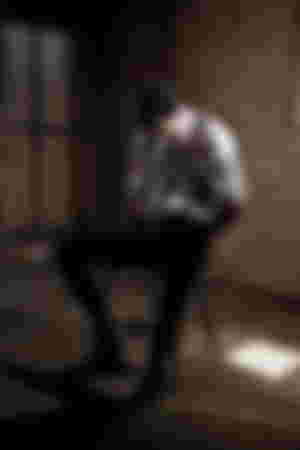 I woke up with a throbbing head banging like I was hit by a truck. Couldn't see straight, 'what happened?' I asked myself, at first I couldn't remember a thing. I whispered to myself last thing I remember was walking home from Carol's place and there was someone in my place and I tried to, wait a minute why am I tied up what the hell is going on.
I shouted, HEY!, anyone there? What is going on, why am I tied up, what sort of prank is this?. No one answered, I was getting scared, breathing fast my eyes started moving around till I saw what time it was 3:34am, I was out for almost 4hours cause I remember getting close to the house almost 12:00am.
Hope this isn't about what I think it I, how can it be I covered my tracks well, nl way they could have found me 'I thought to myself'. I heard voices outside, seems like they are finally coming in... Should I pretend to still be passed out, no I already shouted for help, so they know I'm awake, SHIT!. Two guys walked in very mean looking one with a scar that runs down his cheek from his left eye, the other looked at me like I was his meal

Guy 1: just relax this would be over soon

David: what do you guys want?

Guy 2: didn't he just say relax, you don't need to ask questions, the answers would find you in due time.

David: this is a misunderstanding you guys have the wrong house.

Guy 1: aren't you miles blake?

David: no my name is David Bradley

Both guys looked at each othee and laughed, then I heard another foot step coming in from outside, it was a lady she looked so familiar, she dropped some files at my feet and said "there is no escape" david or should i say miles.
Her voice clicked it was Carol, 'what the fuvk is this' I said, Carol why are you blonde with blue eyes?

Carol: you gullible fool, you really think I was into you?, no it was all a cover and my name isn't Carol it's the snake's head, now where is the diamonds?

David: diamonds?, I don't know what you're talking about

Guy 2: no worries boss, we'll mak him talk

I was severely tortured for 20minutes they did things to me I didn't know was possible, I was willing to talk 3minutes into the torture, but the scar face guy wasn't willing to let up, he wanted to make sure I knew just how much damage he could dish out

Guy 1: he's ready to talk now boss.

Gina aka the snake's head: Very good now where is the diamond?

David: I sold it, how do you think I was able to afford this place

Gina: oh I wish you hadn't been that stupid, who do you sell it to?

David: i don't know who he was or how he knew I had the diamonds he contacted me and told me he wanted to buy it and he would pay 3.5million dollars for it, who says no to that kind of money

Gina: so you sold the diamond you stole to someome you don't know, you're more pathetic than I thought, boys get his laptop and get me the hacker let's find out who this buyer is.

They left me bleeding, still tied up for a few hours, I thought of ways to escape, if only I hadn't taken those diamonds at the party I attended over at Mr Clayton's mansion my former biggest client, I wouldn't be in this mess, God what is this.
Carol, no "the snake's head" walked back and and told me she had figured out who the buyer was and surprisingly it was Mr Clayton's son, the shock on my face no wonder he knew I had it, he saw me take them but he didn't say anything, I thought changing my name and moving away from the city would keep me safe I was so naïve, she requested for a gun from one of the guys and pointed it at my head and she said 'when you visit this plane in your next life don't be a complete moron', I shouted Carol please please please don't do this noooooo!!!!.
https://read.cash/@el-flame/there-is-no-escape-d06c994b Here's the link to part 1...
How you guys doing? Hope ya'll enjoyed this part of the story as you did the first part, I'll conclude it in the next part, thanks to my sponsors and my readers and upvoters for keeping me going, thanks for reading... Do have a lovely night everyone bye..