FOODlog #198: Sang Har Mee
I've been craving for 'Sang Har Mee' which is a noodle dish top with an egg drop gravy that's flavored with fresh water prawns. It's normally a more luxurious and pricey dish which not many places serve it.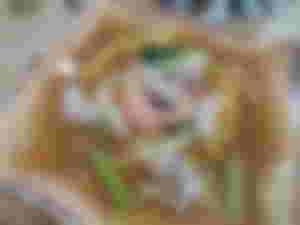 After church about 3 Sundays ago, we went to a local hawker center that we frequent quite a bit. There was a hawker stall serving something similar but instead of those giant fresh water prawns, it was replaced with fresh prawns.
Honestly, it was equally as good and it satisfied my craving for a plate of that noodles and best of all, it didn't burn a hole in my wallet just to have a meal. It only cost RM8 (<2 USD), can you believe it?
The gravy was just the right consistency and it had the lovely fresh seafood flavor from the prawn. They only gave 1 prawn though but it was a really juicy and plump piece of shrimp which is definitely better than 10 small shrimps.
Now that I know this place serves such delicious noodles, I'll add-on some extra prawns when I have it again.
The dish also had some pork slices, fish cakes and some fresh vegetables. I finished the whole plate including the yummy gravy.
My friend ordered a plate of clams cooked with Chinese wine, ginger, and birds eye chili. I tried a bit of it and it was really delicious too. Seems like this hawker center serves lots of delicious seafood. Will definitely be back again!