Adobe Illustrator neurodoll cyberpunk art ENG-ESP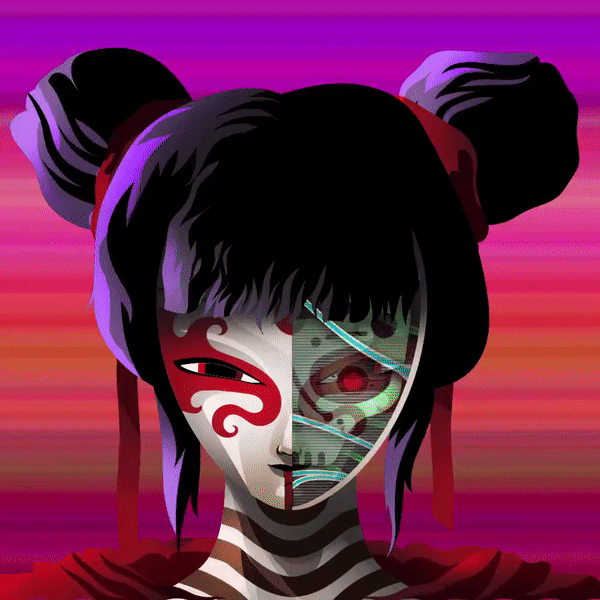 hi everyone!
Today I want to share you a new animation inspired by cyberpunk. I loved the book "neuromancer" by William Gibson, and it's considered the father of the genre, so I wanted to do a drawing about this.
Cyberpunk is a science fiction trend that told us tales located in dystopian future cities where humans are enhanced by technology, and they have access to virtual realities. In cyberpunk the protagonist are usually hackers, drug addicts, anarchists, and outlaws who grew up outside cities controlled by powerful and greedy corporations.
It often takes elements from anime and Japanese aesthetics too.
Ok! We are ready to draw! Let's start drawing a head on Adobe Illustrator! I'm drawing with the mouse.
¡Hola a todos!
Hoy quiero compartirles una nueva animación inspirada en el cyberpunk. Me encantó el libro "neuromancer" de William Gibson, y es considerado el padre del género, así que quise hacer un dibujo sobre esto.
Cyberpunk es una tendencia de ciencia ficción que nos contó historias ubicadas en ciudades futuras distópicas donde los humanos son mejorados por la tecnología y tienen acceso a realidades virtuales. En el cyberpunk los protagonistas suelen ser hackers, drogadictos, anarquistas y forajidos que crecieron fuera de las ciudades controladas por corporaciones poderosas y codiciosas.
A menudo también toma elementos del anime y la estética japonesa.
¡OK! ¡Estamos listos para dibujar! ¡Comencemos a dibujar una cabeza en Adobe Illustrator! Estoy dibujando con el ratón.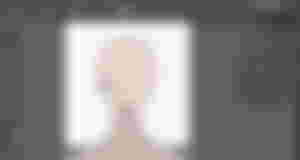 I want to add some aesthetics of a geisha for the character and half of the head will be like a robot, so I will leave this hole in the other half.
Quiero agregar algo de estética de geisha para el personaje y la mitad de la cabeza será como un robot, así que dejaré este agujero en la otra mitad.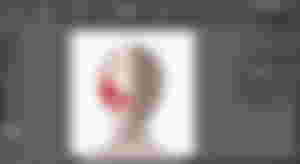 I'm drawing the hair, and the robot parts there.
Estoy dibujando el cabello y las partes del robot allí.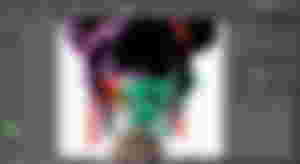 Now we are into Photoshop! I'm adding some lights and shadows, and a colorful background.
¡Ahora estamos en Photoshop! Estoy agregando algunas luces y sombras, y un fondo colorido.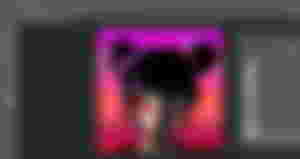 And the final touch, the After Effects animation! I wanted half of the face to look like a glitched hologram that reveals beneath the robot part.
¡Y el toque final, la animación de After Effects! Quería que la mitad de la cara también se viera como un holograma fallando que revela debajo de la parte del robot.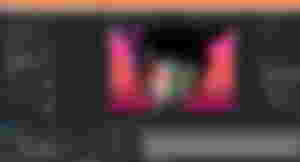 This is the result!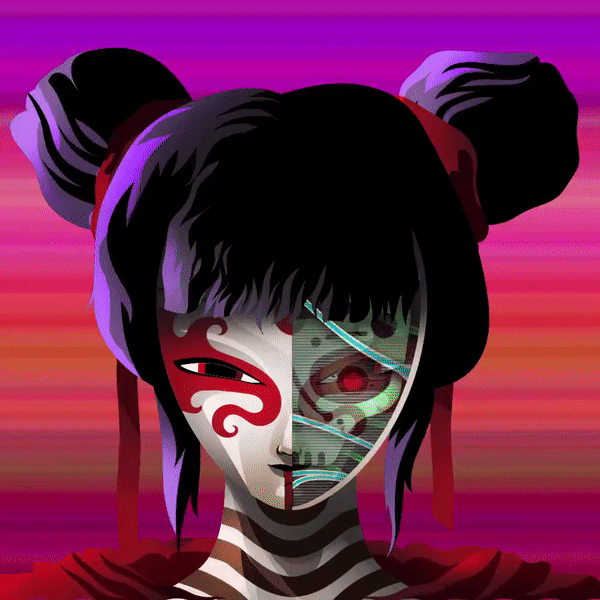 Respective creator
This article is not created by me the original article in below link i will just repost in this site also you can see the video NFT here on rarible.
respectivo creador
Este artículo no fue creado por mí, el artículo original en el enlace a continuación, solo lo volveré a publicar en este sitio, también puede ver el video NFT aquí en rarible.