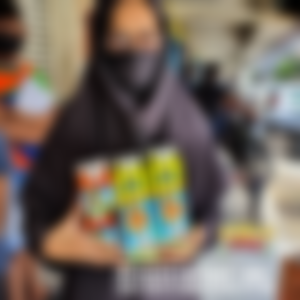 Have you ever experience a time when one day you were still in your home, the next thing you were forced to leave your country just because you pursuit your own faith that is not the same with the governments?
No one wants to be away from their homeland, but for the sake of the survival of their own families, these families were forced to seek refuge in Malaysia that has agreed to temporarily shelter them until they can find a permanent home in whichever country that is safe and also willing to receive them.
These families have dreams too; and no mother wish ill to her children. Every parent would hope that while struggling as a refugee in a foreign land, they hope their children will continue to learn, advance and one day able to stand in a land where they can call home and thrive and love the land they settle in.
---
We are very fortunate to learn these true stories from an outreach that has the pure heart to nurture these families' children. Teaching them as much as they can to prepare them to be impactful young adults in the future; but because of Covid-19 these families were not able to source part time jobs to sustain their own family.
Truly by the Grace of God we received these plant based milk recently that we needed to distribute them quickly before they expire because these milk are all natural with short shelf life. The company could slash prices and sell off for minimal loss, but they chose to donate to us; where we can bless these refugee families healthy plant based milk.
We are currently collaborating with the outreach and whenever we have any excess food we will include them in our distribution list as well, other than our usual support to the local outreach for the past years. We hope we could place them under our permanent list of recipients until they can find a way to sustain themselves, and we truly hope that soon when the pandemic and epidemic ceases, these families will have a chance to find part time tasks to sustain their own family.
Your giving will also be allocated for the outreach school itself, where they too struggle to find ways to sustain the school due to greatly reduced revenue as this is a non-profit school.
Your assistance in any means to help us will greatly help us to help them, and we are truly grateful for you love!
Daily Bread Food Bank Director
disclosure: the Daily Bread Food Bank is part of a non-profit channel, collaborating with other NGOs including the latest Fresh Food Bank Initiative movement.
Where you can find us in mainstream media, look for @dbfoodbank or scan from the QR code below.