Hi there!
So I was kind of inactive yesterday because I just did some unwinding. Well actually, yesterday was a beautiful day for me since finally I got the chance to take a break from my hustles and bustles in life, finally, I was able to breathe. Indeed, there is always a surge of chaos in life like a typhoon surges in certain place. But always remember, that we also deserve to enjoy life, to have fun without thinking for hard exams, stressful jobs, problematic relationships, financial problems, worsening world and degrading society. No matter what happens, always protect your inner peace, laugh more, breathe and most of all, find the calmness in the chaos.
So yesterday, I planned to screw my paperworks and decided to focus myself to having fun, it is also a perfect timing cause we do not have a class for today and tomorrow. That means, I can rest for today. It was 6:00 in Sunday morning when I woke up because I had to wash our dishes for we have to attend in the church later. I was also surprised and thankful for the continuous tips from @TheRandomRewarder in one of my articles, that was actually my first time and I'm also grateful for other users who generously tipped my articles, I pray for more blessings that will be showered upon you.
Moving forward, allow me to tell you how my Sunday went. After our church service we proceeded to the beach for our church bonding. Since there are many birthday celebrants of this month among our members, we decided to just merge the celebration along with the baptism of our two members. Each of the family supported the event and they wholeheartedly share some foods for lunch for us to enjoy together. We also prepared little games for them, such as when a person cannot answer correctly on what was being asked to them, we have to push their faces in a plate of flour, but if they can answer it right we give them a chunk of chocolate. It's like this: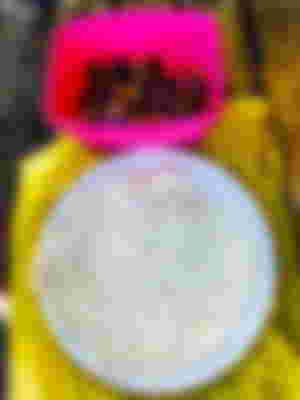 Everyone had fun, not only kids and young people but also the adults cause all of us participated on the games. Afterwards, was s the baptism. Our way of baptism is through immersion in the water, just like what was being taught in the bible. Also, they must be already saved in which they must have already accepted, believed and confessed to acquire salvation, and if they are ready to be baptized they can request to our pastor. So let me take a you a peek on it: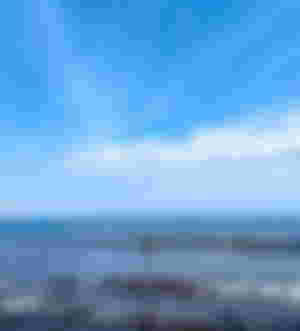 Then, when the ceremony was over we congratulated them and we immediately resort to the refreshing waters of the ocean. The tranquility of the waves smashing on your body could really help to ease the stress cells partying within. I also noticed that it was so good beneath cause it was somewhat cold. And then we also played "It" game with my co-youth. The ocean had witnessed how we shared our laughter together, like it is our last days on earth, despite adversities that are heading toward us in the coming days. Still, we choose to find the calm in the chaos.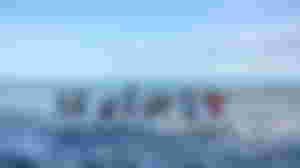 Thank you so much for passing by, I hope you will choose to find the calm in the chaos.
---
Disclaimer: All images including the lead image are mine and from my friends. The ideas and information in this blog are based on my own experiences unless otherwise stated.