We're not living on the same roof
People differ in a whole lot of things. Everyone's unique in their own, every single person carry different burden, joy, dreams, and life.
Yes we live in one world 🌍, one planet - Earth, but we can't deny the fact that things are different from each person. One may relate to another but we can't say we're all the same every time.
You may love the rain. You may wish it'll rain every day or be happy that it rained. However, there are some people who don't like it, who wish heavy rains will not fall. Honestly, I am one of those people who don't like heavy rains. Okay this may be confusing but let me explain. I love the rain, the vibe it give, the droplets of it on the plants, I love playing under it, the fact that it helps plant grows- I love rain. But, growing up in a poor family makes me wish rain won't fall. When I was kid, our house is not sturdy. It's just made of light materials and our roof has a lot of holes. So whenever rain falls, we have to put basin and a lot of rugs on the floor so water will not spread all over the house. Heavy rains mean that my siblings and I will have to evacuate to my uncle's house and my parents will be left behind in our house- I don't like that. Rainy seasons means cold days and nights. I have an allergy to cold (cold urticaria) and I find it hard to breath if it's too cold. I will have hives, rashes, and my whole skin itches. It's not the rain itself that I hate, it's just the aftermath if it happens.
Some will be thankful for it. Most especially it is vital. In agriculture, in our day to day lives, source of water, and a lot of other things.
I even saw this screenshot on fb from the hit movie Parasite and at some point I really understand how different our world seems to be even though we're living on the same planet.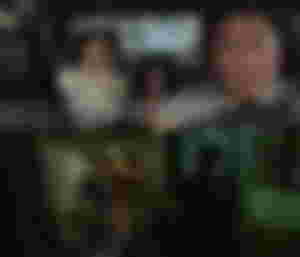 When this scene was flashed on the movie, it broke my heart as I watched it because I can understand the feeling of how difficult it is, not being able to sleep soundly during rainy days.
Another thing are those scraps and garbage that we throw, might be a gem to other people. There are various way to recycle and upcycle things, if only we educate ourselves and have a little care maybe our various problems in poverty and environment will slowly be address. If every single person will separate wastes according to its class and type, this will help manufacturers to reuse it as a raw materials for creating new things. My view in plastics changed when I had my OJT last June, and it'll be out of topic if I discussed it here haha
Our interests might be foolish for others. Our reasons may hurt someone else.
These are few out of many circumstances that makes us different from the other. Social status, education, family background, etc. We're not living on the same roof. Our situation differs.
The world is complicated as is, and if we will not understand and adjust for the sake of other people then this world would be more of a chaos. I am not hating the rich for being rich, I am not blaming the poor for being poor. I am just reminding how considerate we should be and how we should take on various opportunity for a better life.
We are not living on the same roof, we are different, and even those who are literally living on the same roof differ as well. It's the understanding that keeping these differences under control.
with love and curiosity,
curiouscat, Charlotte