Oster. Funeral
A couple of years ago, I began to travel more in Ukraine. I just couldn't imagine for what purpose I would have to discover new cities for myself later... Getting into the car, I catch myself thinking that for the first time in a long time, I will sit in the passenger seat, and not behind the wheel. We drive along the well-known road to the north, which pulls out memories and associations from our memory - this is the road to Vyshhorod, then we pass "Vesely Zayats", "Sosnovel", then Desna, where there is a wonderful pine forest all around. Oster is a small town in the Chernihiv region, it even looks like a village, there are no big buildings...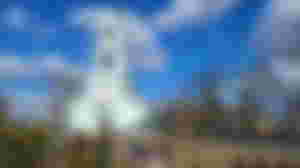 When we approach the church, people kneel. We are right behind the coffin, my mission for the day is to hold the flag. Vadym Mykhailovych Potebnia (pseydonym "Graf") is being buried today. He died almost a year ago in Azovstal, but only now the remains of his body been brought to his native town.
The service in the church lasted a long time. After that, the coffin was put on the car and the convoy went through the whole city to the cemetery. Immediately behind the coffin followed three women, one of whom was his mother and periodically spoke to him. I didn't want to listen to it, because it seemed like you were eavesdropping on someone else's conversation. But I still heard something. Therefore, I had to make some effort not to cry myself. People came out all around, some watched, crossed themselves, some took photos, and some knelt down. We walked back with the boys for 15 minutes quickly, but the road to the cemetery seemed to take about an hour.
Vadim's brother from Azov, who knew him well, drove up to the cemetery, gave a speech, and left a bullet on the grave. Oberih gave a short but very apt speech, addressing the older generation, with the message that since they allowed it in the 90s, it is also their fault. The words "With him - and my child" resonated painfully, because I knew that Oberih's daughter also died on Azovstal...
We drove back on another road, where traces of last year's war action could still be seen here and there. Now the pine forests of the north carry not the peace of nature, but the border danger. And days like this, unfortunately, have become the reality of contemporary life.