Binance Angel - Possible way to start your career in crypto
The Binance Angels are a group of volunteers who dedicate their time to supporting the Binance community and advancing the crypto cause. For many people, this can be the start of their career in the cryptocurrency industry.
By the way, if you don't have a Binance account yet - with this special partner link, you can get -20% trading fees. And, of course, an additional -25% if you use BNB.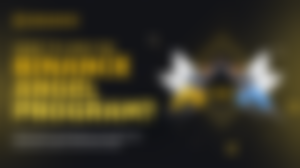 Binance Angels are volunteers who serve the Binance community — Angels are not employees of Binance but choose to join the Binance community, to experience working with fellow Angels and Binancians because of their passion for crypto. Here's what you need to know if you're interested in joining the program.
Since 2017, the Binance Angels have played an essential role in the Binance community, from organizing meetups to moderating our local Telegram channels and guiding new users through the crypto landscape. They are ardent believers in the transformative power of blockchain technology, dedicating their time to supporting the community and advancing the crypto cause.
The application is the first step and, in most cases, the first piece of information we see about you.
Besides answering basic questions about who you are and why you want to join, applicants should reflect on their connection to crypto, Binance, and the larger community as a whole. 
More details and the link to apply: