2 years ago
(Last updated:

1 year ago

)
My previous article about this golden spice was titled "Reasons Why Turmeric is Considered 'Gold'". I was reviewing some information and realized there was additional information about this spice that is useful to know. So that's why I'm calling this article "More Turmeric Love". It's a quick post which was also shared on Noise.Cash.
TURMERIC is a unique spice that many call turmeric "Indian Saffron". This is an ancient spice with a fascinating history [1]. It is used for cooking and for medicinal purposes. There are two main types of turmeric powder: Madras and Alleppey. Madras turmeric is grown in Tamil Nadu (in India). Alleppey turmeric is produced in Kerala. Madras turmeric is light yellow while Alleppey turmeric is much darker in colour [2]. Furthermore, there are five varieties of turmeric which are grown mainly in Kerala [3].
1) Curcuma aromatica or Kasturi Manjal used for skincare but not often used in cooking because if its bitter taste.
2) The turmeric produced from the Curcumin longa is used as an ingredient in Curry Powder.
3) Kuda Manjal turmeric is considered very sacred and so it is used in various ceremonies and rituals.
4) Kari Manjal or Black Turmeric is used in many Ayurvedic medicines.
5) Mara Manjal or Tree manjal is also used in preparing some very special medicines; however, this variety of turmeric is fast disappearing from Western Ghats.
♦ REFERENCES:
[1] Avey, Tori. "What Is the History of Turmeric?" PBS, Public Broadcasting Service, 9 Mar. 2015, https://www.pbs.org/food/the-history-kitchen/turmeric-history/.
[2] "Turmeric Explained." Herbie's Spices, 19 July 2017, https://www.herbies.com.au/general/turmeric-explained-2/.
[3] "TURMERIC TYPES AND USES." Atina Foods, ATINA FOODS AND EMPORIUM, 8 Feb 2018, https://www.atinafoods.com/blog/2017/5/1/turmeric-types-and-uses/.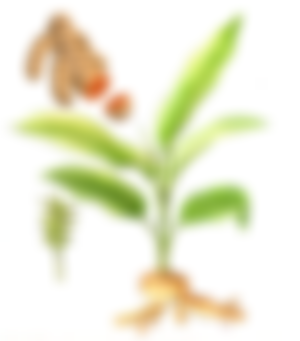 ● ● ●
More articles in My Foodie Luv series
More fun foodie posts on Noise.Cash
MY FOODIE LUV CHANNELS ON NOISE.CASH:
Recipe Sharing : My Foodie Luv
Cooking is about enjoying food & sharing recipes so dishes can be enjoyed again & again.
Herbs and Spices : My Foodie Luv
Experiment with various herbs and spices and create culinary delights everyone will praise!
♦ ♦ ♦ Sponsors of cmoneyspinner
2 years ago
(Last updated:

1 year ago

)