In the USA, Christmas is on December 25th. Some of the US citizens of Hispanic descent also celebrate the Feast of the Three Kings which does not occur until January. But I read somewhere that the people in the Philippines celebrate the Christmas holiday season for months! It's called the "Ber months"; countdown, runs from September to December.
Great! That means I can go ahead and start talking about Christmas even though it's a few months away. 😊
There is one holiday tradition that I did not start off enjoying. Probably because when I first tasted this drink, I was just a kid and you know how kids are. They have both expectations and suspicions when trying new things; and this particular drink did not meet my expectations. It was sort of creamy and had spices in it and ... I don't know what else! Although? I wasn't suspicious about it because everybody else seemed to like it; especially the adults. For one of my brothers, this drink was his "specialty" and according to my mom, he made it really well. As I got older, let's just say I acquired a taste for it.

If you do a search for recipes you will find out there are a bazillion different recipes for this drink. Traditionalists put alcohol in this drink ("Classic Eggnog"), but you can make it virgin (i.e. "Non-alcoholic Eggnog"). My brother really did make good eggnog, but I personally never bothered to make this drink because you can buy it ready-made from the store. It's in the refrigerator case next to the milk. There are also numerous variations of eggnog sweet treats or dessert and breakfast recipes.
Regardless of the recipe used or whether or not you buy it in a carton from the store, when it comes to eggnog, there's a clear dividing line. People either love it or hate it.
How about you?
* Love it!
* Hate it!
* Never tried it!
Happy Holidays! Who wants eggnog? 😊😊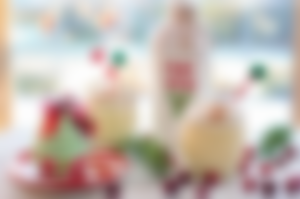 Exploring Eggnog: History and Six Delicious Recipes | Delishably
(Interesting. Did you know that George Washington, America's first president had his own eggnog recipe? The ingredients included rum, whiskey, brandy and sherry. If he had served it to the British Red Coats there would not have been a war. After one drink and they would have passed out! 😊)
32 Holiday Recipes to Make with Eggnog | Taste of Home
(Try the Eggnog Bread Pudding with Cranberries. If you don't like cranberries, used dried cherries.)
10 Uses for Leftover Eggnog | Holiday Recipes | Food Network
(Eggnog french toast? I'm OK with that.)

MY FOODIE LUV CHANNELS ON NOISE.CASH:
♦ ♦ ♦
Thanks for reading.

Sponsors of cmoneyspinner