2 years ago
(Last updated:

1 year ago

)
Many kids don't like eating vegetables. However, for some people, this dislike remains for life long. It's not just that they don't like to eat vegetables. They have, in fact, systematically developed a habit of not eating vegetables. If you are close to a person like that and you prepare meals for them, then you know that you must get very creative when it comes to trying to incorporate such foods into their diets.
You bake a fruit muffin and sneak veggies into the batter.

You add juice from certain veggies into fruit juices and if necessary, a touch of honey to mask the taste.

You make a pasta dish and chop up the veggies extremely small in order to hide them in the meat mixture so that your non-veggie eater doesn't even notice.
It takes a little bit of culinary trickery but … you do what you got to do.
Why people go through extreme measures to hide vegetables in food? The answer is obvious.
You don't have to be a health professional to know the importance of fruits and veggies in one's everyday diet. Long before they came up with the "5 a Day Fruit and Vegetable Rule" (where you're supposed to eat 5 servings of fruits and vegetables each day), moms were telling their kids "Eat your veggies or you don't get any dessert." Moms already knew why, but it was sure nice to get the professional healthcare community to back them up and make it official.
How Do You Do the "5"?
"Eat the rainbow"? Have you ever heard this before? Actually, this expression is very common among dietary experts, nutritionists, health care providers, fitness professionals, and also the people who practice healthy eating.
What is the rainbow? Basically you are advised to eat red, orange and yellow, green, purple and blue, and white fruits and veggies. That's not hard for me. For each of these colors I can name a fruit or veggie that I enjoy and have absolutely no problem incorporating them into my diet.
Red? Pomegranates and tomatoes.

Orange and yellow? Oranges, bananas, carrots, and yellow squash.

Green? Any kind of green leafy vegetable. The darker the greens the better.

Purple and blue? Purple cabbage and blueberries.

White? Duh! Cauliflower! What else?
Surely it's not difficult to follow the advice of the food experts and eat the rainbow. Even if you don't eat them you can drink them.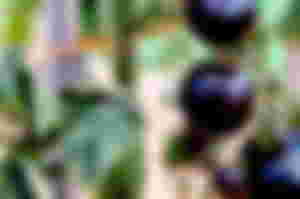 Are Black Fruits and Veggies Not Healthy?
But … but … but what??? But are there no healthy black fruits and vegetables? Why are they not included in the rainbow? They do exist.
I believe that everything in this world is good and good for you and that it was created to be received with thanksgiving. Everything? Yes. Everything. So while they may not look attractive or appealing, there is no doubt in my mind that black fruits and veggies are healthy for you. I am not a health professional but there are people who are qualified to share their knowledge on this matter.
"Farm the World" is an example of an organization comprised of a group of fitness practitioners, herbalists, permaculture gardeners, etc. who have an understanding about food and medicinal plants and they share this information with people across the continents from North America to Africa. They can back me up on this. They prepared a list of healthy black veggies for you to either grow or buy at a farmer's market. Did you know that there are BLACK carrots, tomatoes, tomatillos, corn, pumpkin, bok choy, kale, teepee beans, eggplant, peppers, and a root vegetable that's called "black scorzonera"? A black pumpkin?? All this time I have been using orange pumpkins for Halloween when I could have used orange and black pumpkins? Live and learn.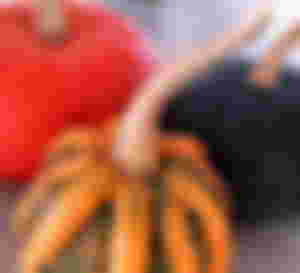 Additionally, Redbook, a respected American women's magazine founded in 1903, published information in praise of black veggies and touted them by stating that they contained "powerful disease-fighting anthocyanins" which can help lower blood pressure, reduce the proliferation of cancer cells, prevent diabetes, improve your vision, and more. In the above paragraph, I said darker greens are better than the lighter greens. However, I was really only talking about my taste preference. Well according to the Redbook article, "the darker the food, the more good stuff it's got". Who knew?
And yet black vegetables are often not included in the "rainbow".
It's very likely an unintentional omission. Hey! It's hard to even find black vegetables in local grocery stores. LOL.

ADDITIONAL LINKS OF INTEREST:
Health Benefits Of Black Foods | Sun Warrior
10 Black Vegetables For Your Garden | Urban Garden Gal
How to Cook Salsify (Oyster Plant)
There is Salsify and also Scorzonera or Black Salsify. You cook this root vegetable the same way you would a carrot. Butter them, cream them, boil or bake them, add to soups or stews, make fritters, etc. Get creative! (Reshared from Noise.Cash)
♦ ♦ ♦
More Read.Cash articles in My Foodie Luv series
More fun foodie posts on Noise.Cash
MY FOODIE LUV CHANNELS ON NOISE.CASH:
Recipe Sharing : My Foodie Luv
Cooking is about enjoying food & sharing recipes so dishes can be enjoyed again & again.
Herbs and Spices : My Foodie Luv
Experiment with various herbs and spices and create culinary delights everyone will praise!
♦ ♦ ♦ Sponsors of cmoneyspinner
2 years ago
(Last updated:

1 year ago

)