Would You Go For a Brand New or a Second Hand Car?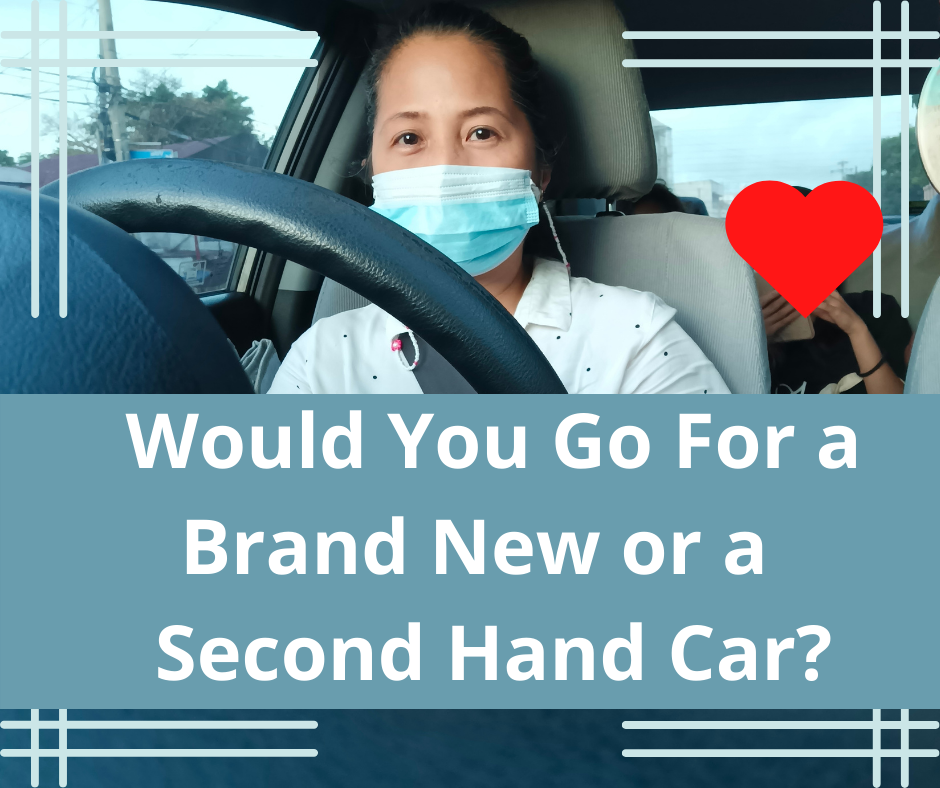 Nowadays, a car is not anymore a luxury but a necessity. Having a service that could bring you to your workplace and back to your home offers great advantage. Especially if you need to travel a certain distance to your office or workplace.
I used to travel from my home to work and vice-versa via public transportation.  It was an exhausting travel that I need to deal with every day. Our home is 60 kilometers away from my workplace and it would take me an hour or more of travel time, one way. Oftentimes, I would reach my home at around 8 in the evening and then I need to leave the house at 6 in the morning.
In 2019, my son found a job with the same place as mine. Same with my daughter. We are all working in the same place. We decided to rent a house so to save on daily fare and at the same time, to be able to take a rest after work. The decision was a great relief.
However, when Covid-19 pandemic hits the country, we find it difficult especially that we need to go to work. That's when I decided to buy a car for my service. My son has his own motorcycle that he use. A friend of mine offered an old vehicle, so I decided to take it with a condition that they will teach me how to drive. After a week of practice, I applied for a driver's license.
My first car was a 1993 Toyota Corolla with manual transmission. Honestly, learning to drive a manual vehicle is hard. But I am determined to learn and I'm glad I am.
At first, everything is okay with the vehicle. But after some time, it started to malfunction forcing me to have a frequent visit to the repair shop. I decided to sell my old car and bought a second hand car. I also want to have a brand new car but weighing the pros and cons, I settled for a second hand.
My current car is a 2013 Honda City with automatic transmission. It is well-maintained with service booklet still intact.  It still runs smoothly and the air conditioning unit still working efficiently.
Having been promoted for a higher position in my job, I know I can already afford to buy a new car. But I have my own reasons why I still choose to buy a second hand.
The price of a new vehicle is increasing each year. The difference between a brand new car and a second hand vehicle is extensively higher. I can observe colleagues who are purchasing brand new cars on installment and I witnessed the difficulty of paying an item on installment for a lengthy period of six years.  What is even more disappointing is when we know that the value of the vehicle will depreciate in a year or two.
I would rather buy a second hand vehicle at a lower price because I can afford to pay it on cash. It would be a better idea than buying a brand new car which I need to pay on installment.
Driving a brand new car would certainly make us worry that we might experience dents and scratches during our first ride. Instead of focusing on driving, we will also worry that our vehicle might be damaged.
In addition to this, I am only renting a place near my office and admittedly, I don't have a secured garage to keep my vehicle. Though we have a parking space near the house but I am worrying that if I buy a brand new car, it would get much attention that might bring in issues. Car nappers would of course choose brand new and high priced vehicles.
Getting a used car insured will cost lower than a brand new car. The key factor in determining the car insurance cost is the value of the vehicle. Since used cars have less value, the cost of insurance would be less as well.
Depreciation of a vehicle is at its peak during the first three years of purchase. When we buy a used car, we will purchase it a price which has already gone under major depreciation.
My decision was based on the circumstances I am currently in. Well, of course, who wouldn't want a brand new car if I have all the resources? But given the limited fund and with people whom I am still helping, I would rather have a used car so I can allot the remaining fund to other worthwhile activities.
Thank you for dropping by.