So, this is my first article to ever write in read.cash! I am new to writing articles that is why I am a bit awkward with my compositions.
I'll start with me introducing myself, get to know me more, and enjoy reading!
Hi, I am Arianne, 19, Filipino, kpop fan, kdrama addict, k-enthusiast. Basically, I am everything that has K in it, lol!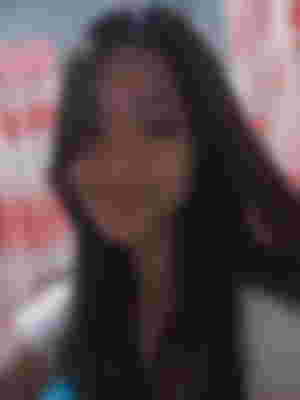 I have been a fan of Korean culture for almost 5 years now. It is funny because I used to be a hater of kpop, as a whole. I used to say kpopangit and get irritated whenever I hear kpop songs, but now I can't get it out of my system. I now listen to korean songs, sing and dance with it, even watch kdramas, and patronize kproducts just like every other k-enthusiast do. There are only three things that I can't do for now; buy merch, attend concert, and go to Korea. The rest of the things that a k-addict would normally do, it did it all.
However, aside from fangirling, there are two recreational activities that I really enjoyed a lot. First is hiking and the next one is surfing. I like mountains and beaches, that's why. So, continue reading and let me show you my other side.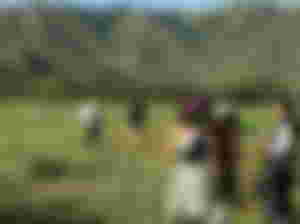 That photo was taken last June 2020. I hiked two days after my birthday together with my cousin and some acquaintances. It took two long hours of hiking before we finally get to see the clear, cold, and clean water falls, not to mention that we got lost several times, that's why it added to the time we consumed and delayed the time of our arrival in our destination.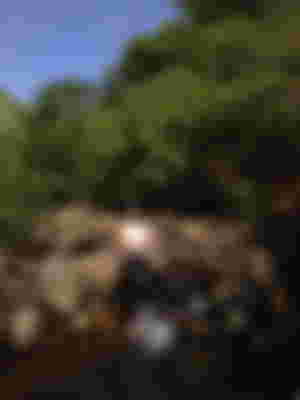 Isn't it a refreshing view? Imagine, after how many months of being caged in our house, we get to see this. The cool and at the same time warm breeze that comes from the trees, the view of nature that is indeed breathtaking gave me healing.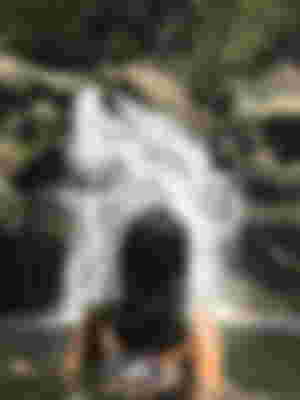 Though there are 3 falls in there (in the mountain) we decided to settle in the second highest falls, contradicting to our original plan which is to stay on the highest. I mentioned earlier that we got lost right? That explains why, lol.
My first surfing, on the other hand, was December 2019. I can't forget how thrilled I was that day. I can't forget how the waves push me through the seashore, how my back slaps in the sea water as I jump down on my board, how tired I was that day that even though we got home, I can still feel the waves.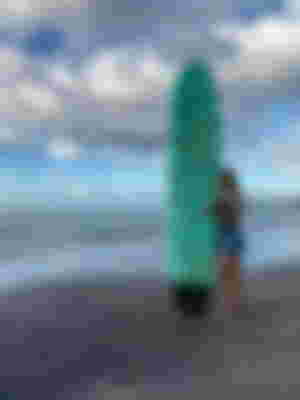 As a first timer, it took several failed attempts before I finally got to stand on my board. The trainer encourages me to not be scared on my attempts. He said that if I hesitate to make my next move then it will be late for me to stand and possibly be outbalanced. I followed his instructions.
The trainer shouts "ready!" that is when I have to (1) place my hand on the board, in front of my chest. As I felt the trainer push my board that is when I have to do my thing; (2) pushup, (3) put my left foot in front in a slightly kneeling position, and (4) put my right foot in front as I stand, then (5) balance in a squat position.
And that is when I finally got my first stand.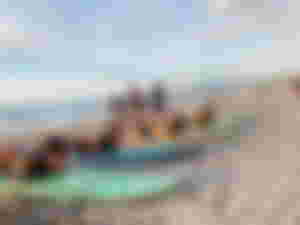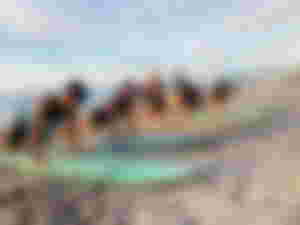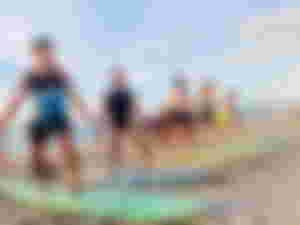 P.S. this is just an illustration of what I did in the water.
P.P.S. this photo was taken during the briefing.
On the second day of January 2021, we came back to the surfing site, the beach. The trainer began with his thing, naming the parts of the board, giving instructions, the proper way of jumping out of the board, etc. I can't focus on what he was saying because all I can hear is the splashing waves that I know will slap me later on.
The time came when we have to go into the water and surf. I rode my board and start paddling. The trainer got shocked because he thought I am a pro because I know to paddle, little did he know that I only watched it on youtube while on our way there, ehe!
This time I take the challenge to myself to surf on my own, but still with the guidance of the trainer. I asked him to find waves for me, and I will do the rest. The first attempt is, of course, failed. The nose of my board sunk that's why I can't stand. Second attempt, failed, me and my cousin nearly collided as her board gone to my direction. Third attempt gave me the satisfaction; I managed to stand on my own.
The trainer joked and said "baka mawalan na ako ng trabaho niyan, next time board nalang rerentahan mo walang nang trainer" (english translation: I think I'll lost my job, next time you will only have to rent the board without the trainer) and I was in awe! I think that is his way to cheer me up after how many failed attempts.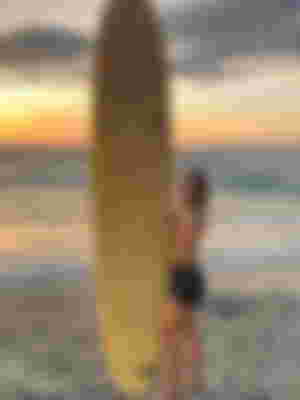 Those are just some part of me that most of the people around me are not aware of. I'm more than just a kpop fan, there is also an adventurous side of me that people may not know and I refused to show.
I think this will be all for my introduction, I hope you enjoyed reading and somehow knew me by this article.
I know not every one of you are familiar to some terms that I used, that's why I'm providing you a "Glossary" of terms, if that makes sense, hihihi. Welcome ;))
P.S. this is my own meaning.
1. K-pop Fan- a supporter of a specific Korean pop group, sometimes daydreaming of becoming their girlfriends/wives.
2. K-drama Addict- those who complain when their instructors are sending a 15-minutes video presentation, but are ready to watch and finish a 16-hours Korean drama in 2 days.
3. K-enthusiast- they feel like they are a Korean citizen whatever they do and wherever they go.
4. K-popangit- ugly kpop, -10.
5. K-product- skin care product, korean food, fashion, etc. I wish I have plenty of them.
6. Merch- merchandise of korean groups, I don't have any of them.
7. Fangirling- supporting your favorite artists, even though they don't know you. Unconditional love T_T huhu
Enjoyed this article?
Earn Bitcoin Cash by sharing it!
Explain
...and you will also help the author collect more tips.