The Wombat will save the day
_ Episode 23 _
March 2022
This post is about online crypto games, not about wombats short-legged, muscular quadrupedal marsupials that are native to Australia. But they are really cute.
First the problem.
I was introduced to Alien Worlds while ago and since I didn't read a lot about it I did what I expected was necessary to start playing. Created WAX wallet. Jumped into the game and soon I realized there was this thing on WAX called RAM and CPU and NET. And off course like any other noob I managed to lock my account.

How on Earth I managed to buy RAM I don't remember. I did burned one WAX NFT but I don't think that's the reason.
Anyway because my CPU and NET are low I can't use it properly.
Since I use only crypto I can't fund it with fiat and ETH bridge is not an option for me.
My frustration is reaping me apart.
I even offered on Noise $2 BCH for $1 WAX but no responses there.
Meanwhile, from the deepest corner of Read came an article about Wombat Dungeon Master game. That was few days ago and I managed to join for a few days before first season ends. Next one will start in a few days.

The game is about staking WAX NFTs. You hide your NFTs (up to 100 of them) inside dungeon and you send cute little wombats to look for them. Everything is 100% automatic with a interesting animation displayed while wombats work in the cave.
I had only 1 NFT - a gift from @PVMihalache I think 'the horde wants you' #55 by byronsroom. Even though this NFT is common and brings tiny reward it was enough for me to earn 392 points.
At the end of season points are converted to WAX. How convenient!
It was only 0.012 wax but enough for staking some CPU.
So now I can mine in Alien Worlds but I can't use Alcor to convert Trillium to WAX because I don't have any NET.
Frustration continues... But not for long!
In the next season all my points are going in staking WAX. It doesn't really matter if it's a microscopic amount, it will lift me off the ground.
So the wombat will save the day :)
Off course there are options to make a lot of WAX in Wombat Dungeon Master. If you stake a lot of good NFTs and you equip your wombat with additional stuff like hat, light, digging tool etc. Or buy NFT pack.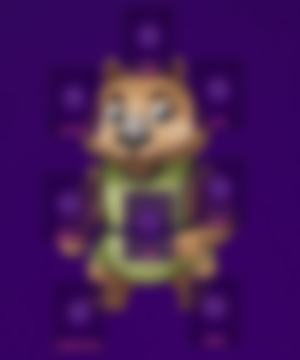 The legend says you can dig NFT in the dungeon, but that's reserved for mythical beings not simple mortals like me.
That's all I have to say about it.
Thanks for reading.
Find me on: twitter | noise | linktree
Read more:
VIS and PGX Pegaxy game coins price prediction and analysis
Properties rental idle crypto game [payment proof]
The future of work and Bitcoin Cash earning opportunities
My second NFT collection (work in progress)
Disclaimer: I'm not a financial advisor, I post only my own experience, so always do your own research on the subject before investing anything. Post may include affiliate links. Thanks for using them.