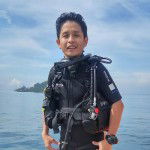 This two weeks maybe is the toughest time that I have to go through.
I have wrong deposited around 200usd to a wrong account. This is the most bad time for me as I maybe cannot get back the money. From reporting to police and reporting to bank branch, until now there is still no news about it.

Me and my girlfriend will get into two weeks quarantine due to his colleagues is positive of Covid 19. So our ministry of health required we do swab test and also self quarantine.
There are still a lot negative things happening around me. Sometimes I am really negative thinking that always hoping to end my life because too much things happen to me.
But recently I have opportunity to slow down and think back.
Although a lot of negativity happened in my life, but when I throwback a lot of things, I still very lucky to have a lot of people that always helping me when I have hard times.
There are still positive people outside that help you to neutralize your negativity. I believe this is always God planning.
These few days I am really busy to earning money through phone and also playing games to earning money to pay back my 200usd loss. If compared to before, I will need a lot of time to recover and wasting time to be sad. But I am improving as directly find way to earn and payback. This is for me I am improving to make things better.
For the quarantine, we have nothing can do, just follow the procedure to break the chain. Hopefully we will get negative result and back to normal life. For now we will need to worry salary cut for the next two weeks, so I am now thinking other way to earn money. Thanks to previous experience in steemit, nowadays there just a lot opportunity I'm blockchain. So now I am very depending on blockchain to earn money.
So a lot of things just be there to prove to me we must be positive and there are million of ways to solve problems. So when we facing problem, positive and calm is the only way and then find the problem and solve it. Hopefully this 2020 will give a lesson is don't take anything for granted, we must cherish and appreciate what we have.