Want to quit working and start playing games
Today I visited one of my friend's houses and he had a PS5 connected to a 60-inch television. I was so excited after seeing that. It has been my dream to play games on PS5 for several years. It is not that I cannot afford a PlayStation but I don't have the time right now for more entertainment. I'm focusing my energy more on doing some work than spending it on entertainment. Sometimes my mind says that I should distract myself from something but mostly it would be a short entertainment and not a long one.
Sometimes I watch some TV series or movies and that would be a good distraction for me. But it is only a short term. Unless I start a big TV series it is under control. But if I start playing games, I might start losing my power and start bringing a new routine to my life where there would be no extra activities for me than playing games and doing my day job. This is one thing that I fear and I don't get into games these days. I have been like this for several months about a few years back. Back then there were no extra activities for me than my day job.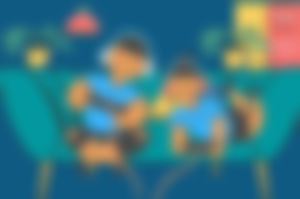 Today I read a lot, learned a lot, and worked on some community projects too. But back then it was not the case and I had a lot of time to waste. Today after visiting the friend, I started to have a feeling that I should get back to that life again and at least once in a while. I remember playing a lot of games on my PC. I don't know how different the experience would be to play using a PlayStation but someday I want to try it.
I remember spending a lot of time playing GTA and other strategy games, especially Dota 2. Those were golden days. It was when I joined my day job and started playing the games in the first few years of my day job. I used to play a minimum of 12 hours a day. Every game in Dota 2 used to take a minimum of 1 hour and some games even go further than that. I used to play continuously one after the other. It was a very big addiction that I had. Later when I started focusing on learning and studying things related to my day job, I came out of this addiction. I stopped playing for nearly 2 years and later after I bought a new laptop, I wanted to test the performance of the laptop by playing Dota 2 again and finally got into the same addiction once again.
Today I have started to have a feeling that one fine day I want to stop working and start playing games like the good old days. I did not have any worry about my life or any fear about my life or health and I used to play for hours together. Today even for work, I'm finding it hard to sit in front of the system for hours together.
---
If you like what I'm doing on Hive, you can vote me as a witness with the links below.
Vote@balazas aHive Witness
Vote@kanibotas aHive Engine Witness
---