Triumphant entry on a Palm Sunday
Every year, forty days before Easter Sunday, Christians celebrate Palm Sunday. It is a week before Easter. On this Sunday, Jesus Christ went to Jerusalem. There was a big crowd of people waiting for him in the streets. Some people were wearing palm leaves. They were waving them as Jesus walked by. They said good things about him.
Because Jesus was such a great person, the people loved and respected him so much. They wanted to show this to him in this special way.
There was a long road from Galilee to Jerusalem. Jesus had to walk on this road every time he went to Jerusalem. This road was not easy because it was made of rocks, sand and bare hills. The sun was also very hot. The road went through a dry place called Judaea, which means "desert". Because it was so hot, there were no palm trees there, so that's why the people wore palm leaves on their hats instead of real palm trees on their heads.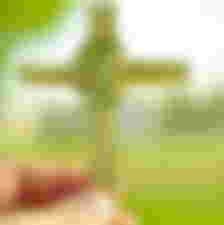 Palm Sunday is an important day in the Christian calendar. Every year, Christians all over the world, observe the day that Jesus Christ entered Jerusalem on a donkey, and was greeted by people who spread their garment as palm leaves.
The story goes that when Jesus rode into Jerusalem people were spreading palm leaves on the road to welcome him, which symbolizes victory, peace and safety.
This celebration by the church is only reminded to us about Jesus victory over death and his entrance into Jerusalem on the donkey. It was also a demonstration that Jesus will soon have all power and authority over his enemies.
The story is told that Sunday was called palm Sunday because a lot of palm trees where present in Jerusalem and the roads had been strewn with them by people from all over the world who had gathered to celebrate Christ arrival in Jerusalem.
Particularly interesting is what happened next as Christ entered Jerusalem and every one of his steps were now tracked by a white-robed group of 12 apostles. They began chanting: Hosanna to the son of David! Blessed is he who comes in the name of the Lord! Hosanna in the highest! The chief priests and Pharisees were outraged and demanded that Jesus rebuke his followers for their lack of respect for authority. But Christ refused to silence them and in turn told those in power to read what would happen to them in a prophecy from Ezekiel.
As families prepare to welcome Jesus Christ in Jerusalem, we celebrate our spiritual journey in the Philippines. For the Filipino families, Palm Sunday traditionally is a day to prepare for the "resurrection lunch" or "rice table."
The traditional meal includes Chicken Inasal (grilled chicken marinated in a mixture of garlic, vinegar, soy sauce, and calamansi), Coconut Chicken (young coconut cooked with chicken), Assorted Seafood and Vegetables in Coconut Milk, Sinigang na Bangus (fermented milkfish), and Pinakbet (mixed vegetables).
 To my wonderful and extreme subscribers, inspiring readers, commentator, upvoters and also my generous sponsors . Thank you all so much for been there, from the bottom of my heart I say thank you. Adereign cares.