Leafy Morning
March 25,2022
Hello there everyone! How are you all today? Hope everybody is doing fine. How about the weather? What are your thoughts about it? Are you okay with the sunny in the morning and rainy in the afternoon? How about your work? Does the weather and your current situation affects your job? Well, whatever your preference is, I just hope that everyone will be productive today.
I started my day with a smile as I went to our garden. It's not actually our own garden because it's more like an organization of farmers in our community. We were assigned to take care of plots and we are free to choose whatever vegetable we are going to plant. After the super typhoon devastated our homes and garden, farmers started to fix and clean each plots as the vegetables in the market increase its price. This is one of the reason why farmers in our community tries to rebuild the ruined plots and started planting new one.
As for our plots, we decided to plant Pechay because it's one of thhe easiest vegetable to plant. The first thing that we did was cleaning the plot because there were fallen trees and branches all over, not to mention the grass and other plants that grow because of the almost 3 months of being abandoned. We exerted full force in cleaning so that we can catch up with the other plot owners because they already cleaned their respective plots and already planted with their preferred seeds. Second, as we cleaned each plots, some of us get organic fertilizers such as animal manure, coconut peat and rice hulls. We incorporated these in the garden soil to have a good result. Now, as we started cleaning the plots we also took care of the seedling so that if the plots were ready for planting the seedlings were be ready too. After mixing the garden soil with the organic fertilizers and the seedlings were enough to be transferred, it is now time to plant.
March 5 when we transferred the seedlings into the plots. Everydays we go to the garden to see if there's wrong or need to be replaced as there are also insects in the garden that eats the leaves of the seedling. Watering of the plants and making sure that the soil is still smooth for the roots to crawl to is my daily routine. Every morning we go to the farm because it's a little far from our house and it takes almost 15 minutes of walking. Never did I felt tired of this routine because everytime I went to check, I am happy because they grow and bloom everyday and aside from that it's my way of doing exercise.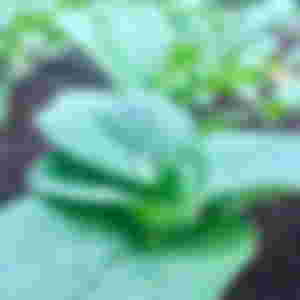 Here's the result of our work everyday. The plant grows healthy. Few days from now this will be ready for harvesting. I am just so proud that I did a good job in planting and taking care of it.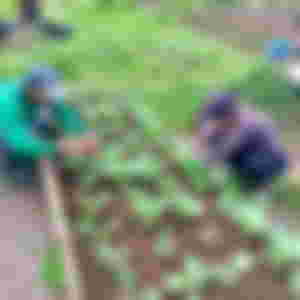 Here's also our neighbor's plot. They also planted Pechay and we almost have the same time of harvesting. I am glad that each farmers possess teamwork, though we have different plots, we never tend forget to help each other in growing and taking care of each plants. In this garden, it's not just the plants we grow but also the friendship and the concern for each and everyone.
Through this, we can eat nutritious and fresh vegetables without buying and spending money. Just patience and hard works and you'll be able to do it too.
Thanks for reading! Until next time.