Her 4th Birthday
April 5,2022
Hello everyone! It's been a while since I the last time I wrote for this platform. Anyways, I missed you all and your lovely and wonderful articles. How are you? How's the weather? In my location, it's raining and it's very cold. Regardless of how's the weather, I hope everyone is doing fine and enjoying the moment.
Last April 02,2022 it was a big day for my lovely daughter. She turned 4 just like that. I mean I can't believe that she is now 4 years old. I could still remember my first visit to the doctor when I found out that I was pregnant until I undergone labor. The first time I held her in my arms to let her feel my love for her. Time flies so fast, I realized that it was four years ago.
This was the day I delivered my baby girl via normal delivery. I want to share to you, how she helped me not to suffer too much pain during my labor. It was Easter Sunday that time around 10pm I had experienced discharge that served to be a symptom when you are on labor so my sister rushed me to the hospital where I planned to be admitted but sad to say they won't accept me not until I contacted my doctor. The doctor was still iin her holy week vacation that time, lucky that she was in her way home from Cebu. We have no choice but to home too and wait for to arrived. April 2,2018 at 3am, the pain is unbearable so they rushed me again to the hospital hoping that my doctor can be contacted, thanks God, when we arrived at the hospital the doctor called the hospital to accept me and prepare the delivery room. The nurses told me to monitor the time between the contractions, they insisted that its not yet ready to deliver and we have to wait until its 8cm. The contractions became more painful so I decided to asked if can I go already to the delivery room. They let me entered and lay down and just like that when my doctor came, I pushed hard so I can deliver my baby safely. I was so happy that time, it was the first moment that I can fully called my self a mother.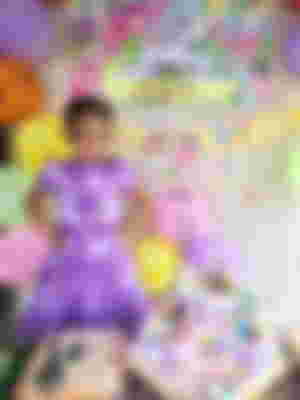 Prior to her birthday, I planned a small birthday part for her that suited our budget. Her party was simple and her visitors were just our neighbors and her playmates. She requested that she wanted to have a birthday cake which is color purple because its her favorite color, due to tight budget, I challege myself to grant her cake. I personally made her birthday cake and I was so happy that my daughter appreciated it regardless of it's imperfections Haha.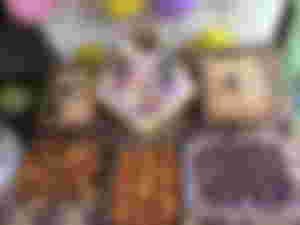 The foods during her birthday were spaghetti, shanghai lumpia, fried chicken, rice cake, puto cheese and pancit, for our dessert we had tapioca. It was prepared by the help of our kind neighbors. They were very supportive to my daughter and I am very thankful to them.
To my daughter,
Happy birthday love! Thank you for coming into our lives and giving us joy,hope and smiles everytime we are down. Continue to be a good girl and always listen to your family. Always seek for his guidance and don't forget to pray. Always remember that we are always here for you all through out your journey, you can always lean and count on us everytime and in every situation. I love you so much my little one. Again, happy happy birthday!