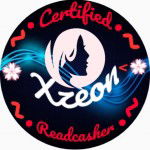 Yesterday was assumed to be my rest day. Be that as it may, I'm telling you, a mother has no rest day. I began the morning with the usual house chores like getting ready for breakfast. The children requested that I prepare a cake for them so I did. After that, I hung my laundry which is as yet not dry from hanging yesterday. Mr.Sunny missed the mark yesterday. I was trusting it's not the same as the present time.
As I cleaned our LPG gas oven in the kitchen, I saw it was excessively old. It is now giving yellowish fire and it has heaps of flakings. One of the aluminum burners has an enormous hole after I cleaned it. The opening brought about by the chipping was now so visible.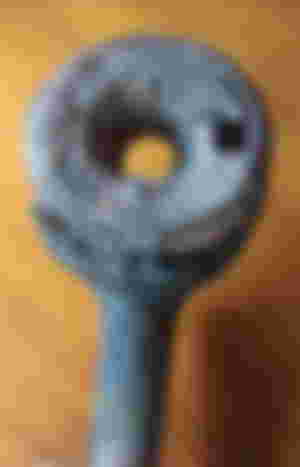 So, with the assistance of my son, we change it by replacing another old one yet much better because it has no flakings.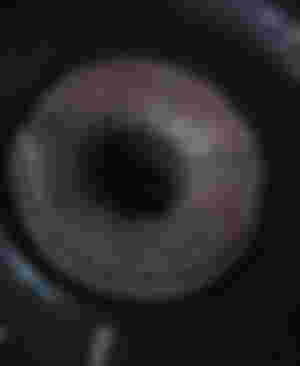 We change the hose too that interfaces with the controller. It as of now begins to become sticky and seems melting and not safe to use by any means for long.
The beneficial thing I saw it before anything wrong will occur during my absence. Its not visible because it was hidden behind the stove thats why. This is for temporary only. I realize we need a new one yet not this exact instant.This is a disadvantage of having no matured man at the house most of the time.
I was practically alone in the house and was gazing out the window that faces the east. Nearly alone because everyone was out. Just three of us were left, my two girls who were both sleeping and I. Our area's mobile network wasn't working since the previous evening so it adds boredom to anybody in the house who needs internet. I didn't go to work likewise because it was my manager's vacation day from her work so along with her daughter and one of my fellow employees (stay-in) they watched the snack house where I usually worked.
The river underneath our home was uproarious yet it's a sort of clamor that is satisfying to my ears. For those who knew about me, I sent photos of this in different scenery.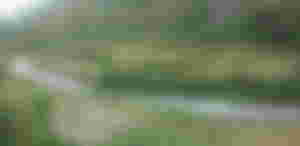 It was my first time doing this. Sitting by the window while typing with my phone's keyboard. For some odd reason hubby got back another center table. I bought one a few years and because we just have a little space at home because our home was somewhat bigger than a pigpen, I chose to move the old table inside our room. It filled in as a review table for my oldest girl after when she is doing her modules. She even thinks that it is gainful because she can focus without everybody moving around the house. The table was put close to the window.
Thus, when everyone was out and my oldest and her young sister were snoozing, I attempted to get mine too. Sadly, my sleep is excessively elusive such that I considered catching it out from the window. 😅 I sat at the table in our room and watch the rice paddies underneath. The view was not excessively charming. The rice grains were at that point collected. No more greens and golds just exhausted rice stalks and its new shoots attempting to peep outside from the dried mud. There's a carabao benefiting from bathing in a mud pool it created from the collected rain in that abandoned field. His owner came later and feed her with collected grasses and here I saw she has a baby. Her baby might not visible because its color mixed with the color of the mud.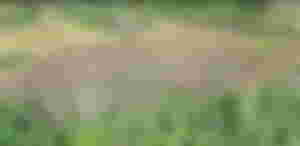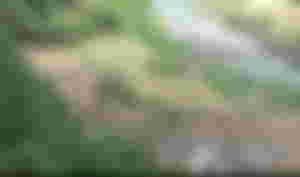 The rice fields are not as actively the same as the previous year. There were only few that were cultivated for gardening. Perhaps it's because we had a poor crop last year. It seems there was a soil disease that pestered the crops. The sweet potatoes were damaged by larvas. Likewise with the corns and beans.
Near the ricefield where the carabao was located, there's a farmer/gardener who attempts to select from his seedlings to transfer it one of the ricefield he just plowed on the other side of the river. If you can see it, its near the bridge. I'm curious what vegetables are they. Some way or another I was interested in the outcome.
Two years back, I recalled that he had grown cauliflowers in another ricefield. He additionally developed carrots and the reap was awesome. My sons had the option to gather rejects from their collections at that time. Rejects that were as yet acceptable, just their sizes were not of the right size. It saved a penny for a viand and I'm grateful for that. One more year, they attempted another vegetable, I simply don't recollect what is it yet it was harmed by a strong hurricane. The area was alongside the embankment so when the storm came, the water in the river rose and the barrier was damaged which caused the already little ricefield to lessen because a portion of it was moved by the strong current. Hopefully this year, the gardener's yield will be good. It's not that we can request his gather for free again except for it's a farmer's wish to a fellow farmer.
The downpour fell before I had the option to gather the garments I hanged earlier yesterday. The beneficial thing my oldest girl woke up on time and assisted me with the garments. Lamentably I felt sorry about @Z_graeden when I learned she wasn't able to collect her clothing because the downpour was so quick and she was doing some other task at that time. What a mischievous climate. I even nearly slipped because I immediately ran outside our entryway just to save my nearly dried clothing. 🤣 My foot got snared with the obstruction I nailed in our lower door frame to forestall our dog and other pets in entering into our home.
It was nearly 5 pm and the pigs are beginning to cry. It's time to feed them. Hubby called in my phone and requested the young boys to meet him at the main road. That time, the boys were at home. I generally used to my oldest kid to do the task of taking care of the pigs since I appointed it to him however this time I needed to do this myself because he has an errand to do for his dad. It began to rain hard.
The pigpen is found just beneath our house, so in the wake of taking care of I went upstairs and fresh tilapia on our kitchen table. I asked the little youngsters who brought it and they told me it was from a granddad, my husbands uncle.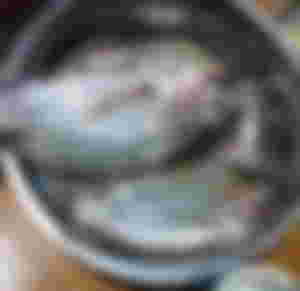 What a blessing and a pleasant viand in this chilly climate. Later the young men showed up with their dad. He just came home from work from a neighbor province and just came for his scheduled follow up check up on Monday. My youngest girl was so eager to open the eco-bag his Daddy has carried with him. During his call an hour prior she mentioned to her father to buy her treats and a milk tea additionally however I discouraged her dad for the milk tea since it's cold and my little girl has a slight cold too so his father bought biscuits rather for every one of them and a chocolate drink (Chuckies) for "her".
An hour after, I began cleaning the fish when a neighbor called my name. She was selling a fresh pechay.
Hubby purchased two bundles since we're a big family and one group would be sufficient for a solitary dinner. We will cook the other one tomorrow. Since we don't have a fridge, I left the uncooked bundle outside to save its freshness under the rain.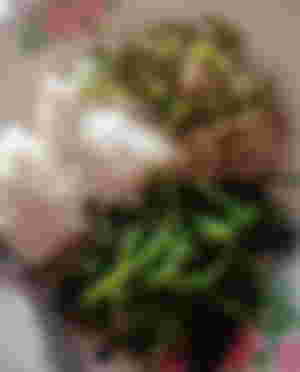 Afterward, Vionce, my second girl brought home a pink eco-bag containing fresh peanuts in one of her hand. Thanks, Z_graeden for the fresh peanuts.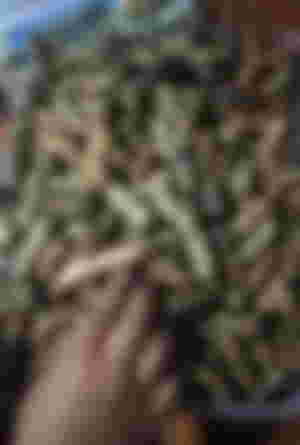 I put the peanuts in the pot and place them over the fire after I arranged our supper.
Next thing I knew, we all retired to bed few hours after a healthy dinner.
Presently,I am helping my kids with their modules.Other activities involved lots of sleeping and eating. 😁I won't continue to discuss the details of my activity today so not to bore you all but thanks for those who come to read this random article of mine. 🤣🤣🤣
(lead image from Pixabay)
10/03/21
>Xzeon<