The notice came unexpectedly, again. I was suppose to go to work when my sister-in-law called me by phone and asked me something. The main topic started to change and later I discovered that they planned to visit one of their relative in Mount Polis, an auntie who was recently discharge from the medical hospital from pneumonia. I needed to drop my plan for the day since I also couldn't visit her during her hospitalization. I gave notice to my boss that I can't come to work.
I wasn't prepared for the visit that I was concerned I had nothing to bring except for my sister-in-law guaranteed me that she had prepared a cake and that would be both our pasalubong.
We, Filipinos are used to bring something at whatever point we visit a relative particularly during affliction, death and visit to our friends, in- laws and companions.As an Igorot, this was a trait and customs we never fail to do until today.
The sun was splendid when we began our trip. I carried with me my coat since I realize that it is so cold at our destination.
Just in case you haven't been to Mt. Polis, Mount Polis is a 6,216-foot mountain peak located on the borders of the provinces of Ifugao and Mountain Province in the Philippines. It ranks as the third highest mountain in Ifugao province and the 124th highest mountain in Philippines. (Wikipedia)
Expect to see the foggy mountains and moist environmental elements. The area is located in an elevated part, that is the reason the temperature is cool.
The place is perfect for individuals who loved to stay in a place with cool weather. Anticipate to dry your laundry for how many days though.If you planned to travel to Banaue starting from our location, you can pass by it before you arrived at their main district, Banaue. But if you start your travel from Manila, it will be the last place before you enter our municipality, Bontoc, which belongs to our province the Mountain Province.
We were kilometer away from our destination when we encountered rain showers. We set our coats and shut the windows since it's beginning to get cold.
When we arrived at the location, we can't find the houses because of the thick clouds.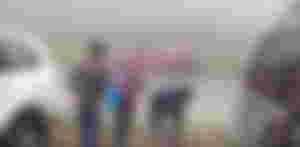 We had our lunch at the area afterwards. We didn't realize that it was a get together and a simple celebration for the host, the aunt, so we met different family members from my in-laws side. Later, our young nephew started to pitch tantrums so I conveyed him outside the house and I attempted to pay him off with treats. We met his older brother en route and together we search for a store.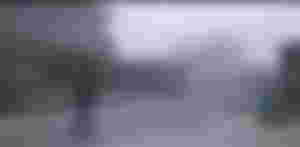 The place appears like a zombie land when we attempted to walk around the place. Many stores were shut and I don't know why when this was once a bustling street since it is along the highway and numerous travellers who wanted to purchase vegetables stopped by the area. Perhaps because it was Sunday and local people went to attend church service.Most primary type of revenue of individuals in here are gardening and selling sand and gravel.They can't raise livestock properly since it is cold most of the time.
I took photograph of this tremendous sculpture of Mary.This is the neighborhood landmark of Mount Polis.A new church was intended to get erected close to it that is somewhat sponsored by the auntie we visited. The surroundings was a bit messy than the previous time we visited in here. These "mess" will be used for the new church construction.
Before we left, the host of the house let us wander in her chayote garden and permitted us to reap it's fruits and chayote tops also.
The place of the aunt we visited possessed the surroundings of her house.It was so wide to such an extent that we don't have the foggiest idea where to begin harvesting. Then she pointed the part where we can gather. It is located in her backyard.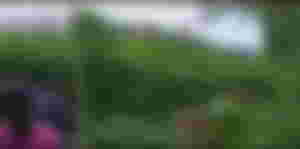 I was astounded by the landscape in the backyard. It appears as though you are on top of a mountain and the sky is reachable. The mist was down that is the reason the adjoining mountains can't be seen. It was my first time to stay longer in this place. I only experienced passing by when I had a short visit to Banaue and to lowlands.
We enjoyed gathering chayote tops and even excited when we find fruits since it was just starting to produce it's fruits and still flowering so there were only few that can be harvested.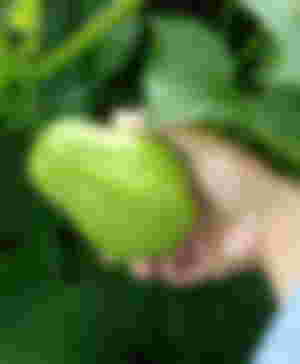 I loved how our nephew enjoyed the place.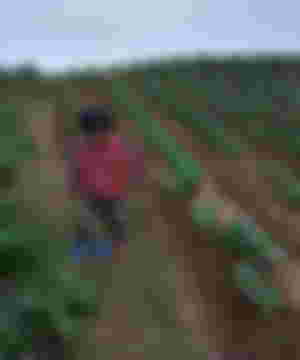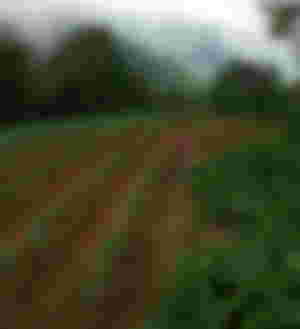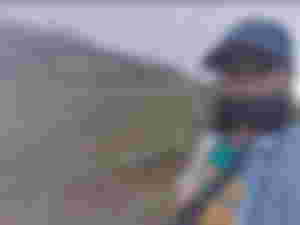 Look at its background, it seems that we're on top of the clouds.The clouds changes quickly. It was clear when we started gathering but few minutes later, it went down and covered the area. There were garden plots with young plants of Chinese cabbage. I could have taken more photos if only we toured earliear but it's improper to leave the other visitors we got acquainted. One thing more, the purpose for the visit was to check on the Aunt not to tour around. 😅 Perhaps we can do it another time.
Anyway, the reason why the aunt called for us immediately is because they butchered a pig and we were given fresh large chunks as her appreciation for our visit. We were surprised but we are thankful for her gesture. That night, we had vegetable and meat at the same time as our viand.
We started to get back home, the engine of the private van we were supposed to ride failed to start. Then a relative came to the rescue, he said perhaps the engine was under a chilled reaction due to the weather. 😅I've no idea about that. Anyway, we arrived home safe.
Thank you for Reading...
09/9/2021